Adrian J Cotterill, Editor-in-Chief
IDklic who describe themselves as an Alternative & Digital Out-Of-Home Media Agency specialising in digital signage has won a contract with Brussels International – Tourism & Congress (BI-TC) and the Brussels Convention & Visitors Bureau for the deployment of a digital signage solution at the BI-TC's Brussels Airport stand (picture shown).
Behind this partnership lies BI-TC's recent decision to improve the reception of VIP visitors arriving in Brussels by modernizing the BI-TC information stand in the airport's baggage area.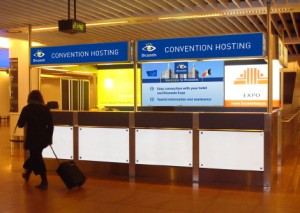 The newly refurbished stand, which represents the first point of contact to welcome guests, is equipped with window screen technology displaying practical information, and with a person present to inform and direct the guests.
Frank Vandenbreede, BI-TC's IT and operations senior manager, reached out to iDklic to find an easy, quick and efficient solution to meet BI-TC's requirements, which amongst others, included the use of the VIKUITI 3M technology.
Vandenbreede told us that he was "convinced by iDklic's know-how and experience gained from the Mercedes-Benz project and from deploying digital signage solutions in more than 200 pharmacies."
We last wrote about IDklic with regard their Mercedez-Benz Dealer install.
iDklic have also continued to work with the NAVORI digital signage solution.
ABOUT iDklic

iDklic is Belgium's leading Digital Out-Of-Home Media Agency. The company provides retailers and marketers innovative ways of targeting and engaging consumers. iDklic centrally manages out-of-home digital networks in car dealerships, airports and retail stores, delivering dynamic, relevant and visually appealing messages via plasma and LCD screens. Clients include HYPERLINK "http://www.epc-familia.be" EPC-Familia Mercedes-Benz, V.Pharma, Pharma Santé, BITC, Zaventem Airport. iDklic centrally manages and produces content for all of its clients. iDklic Creative, iDklic's in-house creative studio, is Belgium's number one out-of-home digital content provider .