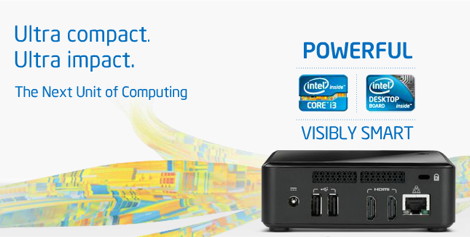 From their latest eblast campaign it appears that MediaSignage.com (a 'well-promoted' freemium digital signage vendor out of California, USA) is one of the first digital signage vendors to adopt and aggressively promote Intel's Next Unit of Computing platform for use in digital signage.
Compare above from Intel's site with the picture on the right from Mediasignage.com's most recent eblast.
They clearly illustrate the relationship between the dubbed MediaBOX-200 and the NUC?
Take a look also at our initial initial take on NUC from back in May 2012.