IAdea has announced the availability of seven new devices designed for digital signage.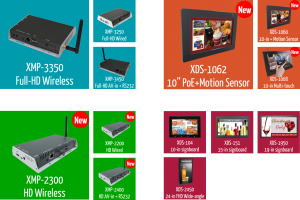 The devices will be shown by select IAdea partners at #ISE2013, including the Scala stand (first mentioned here):
Three new 10-inch digital signboards incorporate advanced functions for digital signage projects, especially targeting the retail and corporate vertical markets. The XDS-1060 and XDS-1062 are easily mounted on the retail shelf or simply sit on the table-top using the included multi-purpose stand. Replaceable front bezel allows the device to be customized to fit the design theme of the deployment environment. Motion sensor and a set of 6 touch-sensitive buttons enable rich interaction and deep engagement with the viewer. The XDS-1068 features a 10-point multi-touch panel and embedded video camera, as well as enhanced display resolution and view angle, providing a robust tool for delivering targeted and personalized content
Three new media players are available for use with larger screens. The XMP-2200, XMP-2300 and XMP-2400 offer a network managed media player platform, differentiated by their support for wireless connectivity options, A/V-in video overlay and RS-232 control
Billed as the world's first OPS (Open Pluggable Spec)-compliant player supporting the Android API, the XOP-2300 is a fan-less module for displays with the OPS player slot, offering a low-power alternative platform for the form factor
Rex Chen, Executive Vice President of IAdea told us "These new devices incorporate our years of experience in the digital signage market. Our goal is to provide a wide range of hardware options to meet real project requirements, while maintaining the best interoperability with content management solutions."
The new devices are scheduled for release starting February. Digital signage integrators may purchase them from IAdea resellers worldwide. IAdea also offers private label options for volume customers.