Adrian J Cotterill, Editor-in-Chief
The first Integrated Systems Europe tradeshow was held in Geneva, Switzerland in February 2004, a joint venture of InfoComm International, CEDIA and NSCA.
That show attracted 120 exhibitors and just under 3,500 attendees, fast-forward to last year and #ISE2012 played host to 825 exhibitors and more than 40,869 attendees.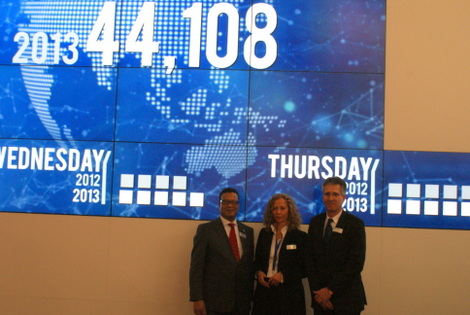 This week's #ISE2013, already the best-attended show in the professional AV and electronic systems industry anywhere in the world, just got a whole lot bigger (and if it's actually possible, also a lot better at the same time).
ISE 2013 occupied all 12 halls of the Amsterdam RAI, had a total net floor area of 32,500 net square metres and the final attendance figure was a very impressive 44,151
That number is, by the way, just a few more than when the photo above was taken† at Die Pixel-Maschine on the NEC Display Solutions stand R24 in Hall 4, which was keeping track of visitor numbers throughout the show.
According to EXPO Magazine, the event is now the third-fastest growing tradeshow in the world,
† Photo taken 15:20 Thursday 31st January 2012. Shown left to right Managing Director Integrated Systems Events Mike Blackman, NEC Display Solution's Senior Vice President Marketing & Business Development Stefanie Corinth and NEC Display Solution's President and CEO Bernd Eberhardt