Gail Chiasson, North American Editor
As auto sales gain momentum, Watchfire Signs of Danville, Ill., is seeing auto dealers increasingly use digital signage as a powerful tool to refresh their image and boost sales.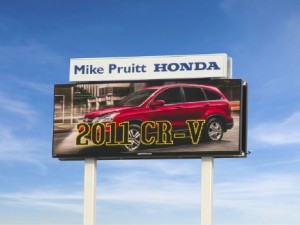 "We've actually reduced our advertising budget by using the Watchfire digital sign," says Mike Pruitt, former NFL running back and owner of Pruitt Honda in Akron, Ohio.
Pruitt purchased a full color Watchfire XVS 19mm sign after extensively researching digital signs. According to Pruitt, the digital sign draws customer attention and gives his dealership top-of-mind awareness. But the biggest benefit is the result. "It seems any used vehicle we put there gets sold."
Pruitt's experience is reflected at auto dealerships nationwide. Watchfire Signs' combination of durability, energy efficiency, easy-to-use advertising tools and visual impact yields strong results, says Mark Warner, director of marketing for Bill Cole Automall in Bluefield, West Virginia.
"We treat the sign advertising like a TV commercial," Warner says. "There are so many software features available. Watchfire gives us a universe of tools to work with." The staff at Bill Cole Automall manages the sign and updates it frequently to drive customer attention and traffic into the showroom. "We like our prospects and customers to feel like they are always seeing something new."
When Bill Cole Automall analyzed the return on investment, the cost savings in maintenance and energy consumption made tits decision easy. The dealership even qualified for an energy rebate in the tens of thousands of dollars. That savings gave the Automall the confidence to purchase the largest sign of its type in the area.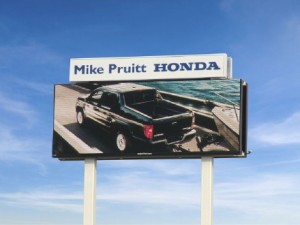 The value of a sign upgrade is something Bill Alexander Ford in Yuma, Arizona understands well.
The dealership purchased its Watchfire LED sign in 2012 as a replacement for a sign it had dismantled years before out of frustration with the expense and maintenance. The new XVS 19mm sign had an immediate impact, driving customer attention and sales.
Says Everett Dawson, general manager, Bill Alexander Ford, "The sign is easy to use, and it's a good way to announce promotions. Overall it adds value to our whole advertising program."
Jeff Fritz, CFO agrees, "There is no question in my mind – it was definitely money well spent."
Watchfire has been showcasing its full line of LED signs Feb.8-11 at the 2013 National Auto Dealer Association Show in Orlando, Florida, at Booth 175.