Adrian J Cotterill, Editor-in-Chief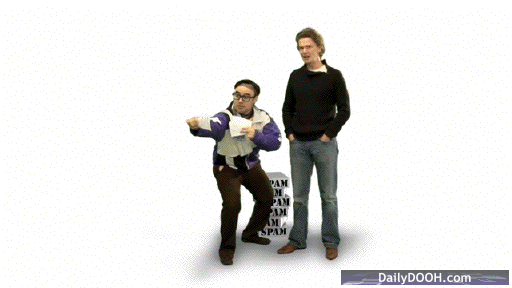 Here's an exclusive look at the second instalment of Screen Expo Europe's DOOH Viral Video AND we even have the script, sneaked off the 'set' in full as well!!!
This clip deals with Direct Mail vs Digital Out of Home (it's a retail reference for the latter with the discussion about the aisle).
Very clever and well worth a watch CLICK HERE before you read the script below!!
SCRIPT 2 – DOOH Screen – Direct Mail

DOOH
Hello, I'm a Digital Out of Home Screen

DM
And I'm Direct Mail

DOOH
What are you doing Direct Mail?

DM
[trying to hand out leaflets to invisible people]
Handing out leaflets, sending out mail, getting in touch with people, that sort of thing.

DOOH
[slightly surprised yet interested expression on face]
Oh, right, and er how's it going?

DM
[slightly sly, shifty mannerism and vibes]
Really Great actually yeah, I've nearly got rid of all my leaflets – Brilliant!

DOOH
[glancing at the pile of Spam leaflets in boxes behind DM]
You've still got quite a few there to get through…

DM
No I don't

DOOH
[looking over towards a person who is out of shot, gesturing with hands]
Yes, it's just 3rd on the left, down the aisle and there's 10% off today

DM
[looking over towards a person out of shot on the other side]
[Shouting]
Oh well fine then if you don't want it then get lost you T***

DM
What?

DOOH
[Looks to camera, looking embarrassed and awkward for DM]

DM
[kicks boxes of Spam and stubs toe…]
http://www.screenevents.co.uk/
The campaign itself is getting a lot of publicity, see http://www.themarketingblog.co.uk/