Gail Chiasson, North American Editor
Telus, one of Canada's three big telcos and possibly the most profitable, has been quietly doing digital signage since it bought a videoconferencing company called Adcom Electronics in 2004.
Since then, it has been getting more and more into the digital signage sector – the only major telco in the sector – again mainly quietly with government agencies along with the educational market, Telus' own stores, and, we believe, GO Transit.
But all that quiet, under the radar, has come out with the launch of Sport Chek's new digital store in Toronto that is Telus Digital Signage's first major retail offering and, believe me, we're now going to be seeing it moving big time in retail across Canada.
"We've never marketed our digital offerings," says David Carbert, senior product and product development manager, Telus Digital Signage, Toronto. "But our focus is large enterprises and I think from now on, now that you've seen what we can do in retail, we're going to be much more visible."
What Telus Digital Signage has done has knocked Canada's retail sector on its ear with the 17,000 sq. ft. store that is being called the Retail Lab for Sport Chek, part of the Forzani Group, itself owned by Canadian Tire. (Canadian Tire also owns Atmophère and Mark's Work Warehouse/L'Equipeur. All are major chains)
The Sport Check store includes the largest single retail digital signage deployment in Canada. First of all, we must mention that Telus is STRATACACHE's agent in Canada, and STRATACACHE provided the digital signage software and media players. STRATACACHE also turned the Samsung Galaxy tablets, mentioned below, into mini-signs/interactive devices – the first time it has been done and with the blessing of Samsung in Korea – which supplied the codes enabling it to be done.
Here's some of what the store offers:
Sport Chek partnered with Samsung and installed 140 digital screens throughout the store. These include smaller format screens such as digital tiles built into display tables; tablets that have been incorporated into the top of clothing racks; and all sorts of digital displays to showcase videos and still images.
The storefront features a large digital projection screen that displays high-definition video, still images and may eventually show live feeds of sporting events. The 5' x 32' projection wall of four live video panels is provided with Panasonic projectors.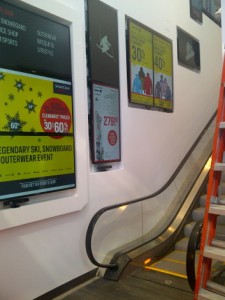 Next to the store's escalator is a wall of 19 screens. When consumers approach, an Xbox Kinect activates and displays promotions or a simulated chairlift on the screens. A Community Board located on the second floor provides customers with schedules, updates and statistics for local sports teams. (Consumers can log onto the Sport Chek Facebook page to submit photos for the board.)
Each sales associate has also been equipped with a tablet that allows them to takeover larger screens in the store to showcase vendor information and advertising – some of which appears as part of the regular in-store, on-screen content. The whole store is wired in fibre optics, thanks to Creston, which allow flexibility for fast screen changes.
In addition to other advertising screens, Reebok installed a build-your-own sneaker kiosk. (Finished products will be shipped to consumers in four-to-six weeks.) And Adidas set up its first permanent digital shoe wall in Canada to showcase content for each shoe model including product information, live Twitter feeds, videos, images and more.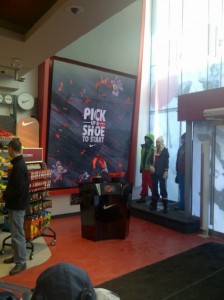 All of the digital content is controlled from a facility in Calgary, which can produce and send material to specific screens within 12 minutes.
With the success of the store (which is being watched carefully for what works and what – if anything – doesn't), Telus Digital Signage is already working on its next project: a combination Sport Chek and Atmosphère store of 78,000 sq. ft. in the famed West Edmonton Mall.
"We believe that Canadian Tire's aim is to equip the Forzani Group stores, then Mark's Warehouse, and then Canadian Tires stores themselves," says Carbert.
But other Canadian retailers aren't waiting around. Having seen the Toronto Sport Chek store, Telus Digital Signage has already been approached by three other retailers. We're sure it will no longer be working under the radar.