Gail Chiasson, North American Editor
Midwest pharmacy chain Thrifty White Drug, committed to providing superior pharmacy healthcare to the small towns and cities it serves, is continually looking for ways to improve upon patient communication and education.
The Thrifty White team knew that digital signage would help facilitate the communication of key services and programs they offer to their customers. With 90 locations in Minnesota, North Dakota, South Dakota, Iowa, Montana and Wisconsin, the company needed a centralized and streamlined way to deliver visual and audio media content. Digital signage displays can provide a visually appealing way to communicate initiatives such as flu shots, immunizations, patient education, automated prescription refill services and many other programs and services that the company offers.
Thrifty White canvassed the market for a digital signage vendor who could centrally manage and administer complex content, considering two other vendors before selecting Adflow Networks to manage a 12-store pilot roll out. Adflow's workflow management system helped tip the scales in its favour, and the project kicked off in April, 2012.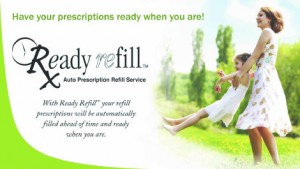 "We elected to go with Adflow for the depth and breadth of their product and content management software," says Tim Erdle, executive vice-president. store operations for Thrifty White..
A remodeling effort in the 12 selected stores provided the perfect opportunity to showcase the new screens. Each location received one or two 42" monitors with screen control service.
"The screen control service was an important feature for us, allowing us to control the On and Off times of the monitors in each market with no store involvement needed," says Erdle. "This allows for 100% control of the operating system to be maintained by our corporate office. The Adflow support staff have been very responsive to our questions during the initial installations and throughout the ongoing operation. In April and May of 2013 we plan to install the Adflow digital signage system in 66 additional store locations."
Mike Abbott, president of Adflow Networks, says, "We believe that digital signage is a great way for pharmacy stores to communicate with customers."
The Thrifty White digital signs are used to communicate healthcare and wellness programs in patient waiting areas visible in and around the pharmacy area. There are two types of content displayed: Static advertisements with and without audio; and full audio and video commercials.