atmAd, i-design's dedicated third party ATM media sales offering has announced a ten day campaign in support of Comic Relief in collaboration with site partners Nationwide Building Society, YourCash and Bank Machine.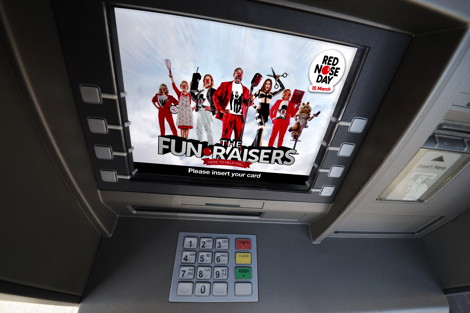 Red Nose Day is Friday 15 March, and this year Comic Relief has put together a team of celebrity 'Fun Raisers' with one very important mission: to help the nation do something funny for money. Featuring Mary Berry, Jason Donovan, Lenny Henry, Jessie J, Keith Lemon, Miss Piggy and Helen Skelton, this team of celebrities has all the fundraising ideas anyone could ever need to raise stacks of cash this Red Nose Day. The money raised through Red Nose Day helps change the lives of poor, vulnerable and disadvantaged people across the UK and Africa.
Running nationally across High Streets and Commuter sites, the campaign will engage with 3.8 million consumers during February. The Red Nose Day campaign is a unique and perfect match for atmAd, not only owing to the relevancy of withdrawing cash with the campaign message but also the ability to deliver millions of intimate one-to-one engagements in locations that are at the heart of British communities.