Gail Chiasson, North American Editor
One of Australia's leading billboard and signage companies, goa, has chosen a combination of Toronto-based Dot2Dot's Ad Manager and Scala Content Manager to manage its digital and static media assets throughout Queensland.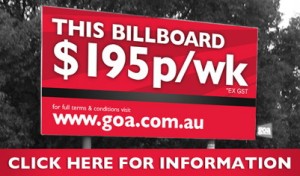 Following a review of available software options, goa chose Ad Manager and its seamless integration with Scala 5. TechMedia Digital Systems Pty Ltd, the local Australian Scala & Dot2Dot sales and service office based in Sydney, will install and support the solution.
goa's diverse inventory, which includes Supersites, Spectaculars, 6m x 3m billboards and Australia's first digital billboard network can be seen at key locations throughout Queensland. goa also connects with more than 150,000 rail commuters everyday via its 'Netrail', an exclusive ad network featuring prominent fixtures at many Queensland rail stations.
With Ad Manager, goa will now manage both its static and digital media assets in one system, allowing users to manage and schedule their inventory to various campaigns. Playlist details are sent to Scala's Content Manager for deployment and Proof of Play information is sent back to Ad Manager for tracking and reporting. Billing, leasing, and maintenance functions are also provided to ensure users can enter information into one system for the entire organization to access.

"goa's diverse portfolio of media types makes Ad Manager a terrific fit," says John Devonshire, client services manager, Dot2Dot Communications. "We look forward to building our partnership with goa to meet and exceed goa's needs."
goa Billboards was formed in 1983 as General Outdoor Advertising. The company's head office is in Brisbane, with sales offices in Sydney and Melbourne. goa has approximately 300 strategically placed static and digital media locations throughout Queensland.