Gail Chiasson, North American Editor
New York-based Adspace Digital Mall Network has collaborated with partner Blue Bite to install Near Field Communication technology into 140 malls of Adspace's extensive 206 mall national network.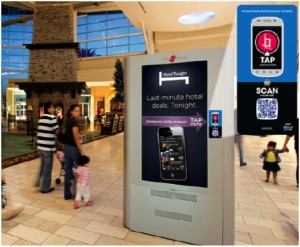 This addition is expected to further increase mall shoppers' mobile interaction with Adspace Networks' digital Smart Screens that are installed with mTAG Technology.
Blue Bite's proprietary mTAG platform uses NFC and Quick Response (QR) codes to facilitate a variety of brand-to-consumer interactions. The Smart Screens will feature client advertising that motivates consumers to either tap or snap the mTAG placard on the side panel of the unit. The mTAG delivers rich user experiences such as content downloads (movie trailers, mp3s, eBooks, apps), web-based games and applications, promotions and coupons, social media integration, maps and more – directly to shoppers' phones.
Shoppers with NFC-enabled mobile phones will be able to receive content instantly, creating a seamless and intuitive engagement with the brand. Consumers with phones that do not yet have NFC will still be able to scan a QR code to access the same content. Content will be location specific so advertisers can easily target campaigns by demographic, DMA or by mall. The users can further the impact of mobile campaigns by sharing them with their friends via Facebook and Twitter.
"Forecasts say that 52% of phones in the U.S. will be equipped for NFC by 2014," says Eric Steinert, executive vice-president business development. "We've been talking to Blue Bite for a long time, and we felt that now is the right time to pull the trigger. We feel that equipping our screens with NFC now is worth the investment. We are preparing for continued and rapid growth."
"Utilizing Blue Bite's mTAG technology will extend a brand's message featured on our Smart Screens to a shopper's mobile device, encouraging them to interact on a deeper level," says Dominick Porco, chairman and CEO, Adspace Networks. "Importantly, these interactions are measureable and will confirm the shoppers' engagement with our Smart Screens."
Adspace has approximately 14 screens in each mall and each will be equipped for NFC. We asked Steinert why NFC hasn't been put on the entire Adspace network.
"Unfortunately, it's not viable right now," says Syeinert. "Many of the screens in the malls that we gained when we took over Access 360 Mallvision last August are currently at the wrong height for placement of NFC interactivity by consumers."
"As consumers become increasingly reliant upon their mobile phones, the ability to communicate with them on their most personal screen, will transform the shopping experience," says Mikhail Damiani, CEO and co-founder of Blue Bite. "We believe that Digital Out-of-Home represents a natural fit for mobile integration."
The mTAG technology will be deployed on Adspace Smart Screens and available to advertisers starting April 15, 2013,