Redbus Media Group has announced further expansion of its 18-24 year-old focussed digital 6-sheet network with plans to reach over 150 sites in the UK later this year.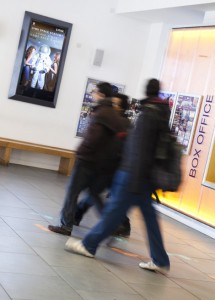 The Eighteen-24 network comprises, as well as digital, 300+ static 6-sheets all of which are positioned in long dwell-time, high footfall student unions at over 100 premier campuses, including prestigious institutions such as Imperial, LSE, Warwick and St Andrews (as well as major city universities such as Birmingham, Bristol, Cardiff, Glasgow, Edinburgh, Leeds, Manchester and Newcastle).
The network offers brands a valuable opportunity to engage with young adults, an audience with a reported annual spending power of £20 billion.
Eighteen-24 has already carried digital campaigns in Q1 from national advertisers such as TopMan, New Look, 02, Samsung, Warner Music, Unilever, ASDA and Aldi with several other brands lined up for the key exam period and end of term celebrations.
Stefan Borson, Chief Executive of Redbus told us "Our Eighteen-24 network offers advertisers an exclusive opportunity to engage with an audience with a surprising amount of disposable cash and with a love of fashion, tech, music, film and, of course, discount offers. Our fully connected network allows advertisers to target this group in an engaging way with dynamically updating content, at the times that suit them and with the target audience ready to respond in-store, in person, online and over mobile."
'Eighteen-24' is billed as one of the largest national digital 6-sheet networks in the UK and reaches over 70% of the nation's university population (or 1.7 million 18-24 year olds).