Adrian J Cotterill, Editor-in-Chief
It's not a show we usually have time to attend but we note that everyone in our industry whose business starts with the letter 'S' are exhibiting at today and tomorrow's Retail Business Technology Expo 2013 in London.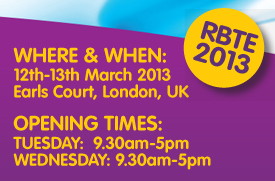 Both Scala and Signagelive are exhibiting with their new friend Samsung, whilst STRATACACHE are going it alone, and Scala are also on the HP stand…
Scala are demonstrating integration with tablets, especially aimed at retail, at both the Samsung booth (Stand 844) – on a 2×2 video wall consisting of 46 inch displays – and at the HP booth (Stand 450).
Also on the Hewlett-Packard booth (Stand 450), Scala will exhibit a new solution called 'Digital Retail Concierge'. This solution combines the concept of a customer loyalty card with shopping behavior profiling and way finding. When a shopper enters a store, he/she can scan a customer loyalty card with a barcode; on an interactive screen the concierge app will appear with 5 items on a 'wish list' (based on historical purchases of the customer) and 5 suggested items; the user can tap on an image to enlarge it and see detailed specifications and he/she can change the rating of products; by tapping the 'Find it' button an item from the list can be located on a store map; this opens a window of the store layout with an indicator of the user's current location and the item's location.
On the Samsung booth (Stand 844) Signagelive are demonstrating the ability to control content on the new Samsung Smart Signage Display using a Galaxy Note to select the content to be viewed.
STRATACACHE have their own booth (Stand 1341)
The Retail Business Technology Expo 2013 is taking place 12 – 13 March 2013 at Earls Court, London.