Gail Chiasson, North American Editor
3M recently showed its interactive Virtual Presenter at South by Southwest Interactive in Austin, Texas, allowing #SXSW attendees to interact with 3M's life-like digital avatar through a touch screen, in order to get conference panel recommendations, learn more about 3M through a game-like interface, and share information about their Virtual Presenter experience with friends on Facebook and Twitter – we note the new addition of a programmable touch panel to the 3M Virtual Presenter allowing interactive applications, Ed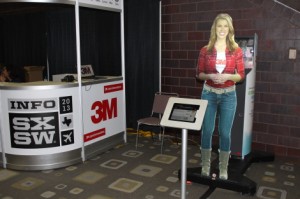 Three Interactive Virtual Presenters were on display throughout #SXSW.
"The interactive 3M Virtual Presenter represents the next generation of interactive digital communication," says Bill Hibbard, 3M business development manager.
"While virtual presenters have been seen at trade shows, airports and drugstores during the past few years, 3M's new integrated, interactive virtual presenter provides the opportunity to capture data, generate leads, customize content and drive social engagement. With all the creative minds and innovation leaders coming to Austin this week, we're thrilled to enhance the SXSW Interactive experience for attendees looking for schedule information."
3M will be launching a fully integrated interactive Virtual Presenter in April in automotive dealerships, providing dealers with, what is described as, an innovative, less intrusive way to generate sales leads. 3M is currently market testing the Interactive Virtual Presenter in select dealerships in New York and Florida.