Adrian J Cotterill, Editor-in-Chief
"Chicago is becoming the Silicon Valley of digital outdoor media," said Jean-Francois Decaux, co-CEO of JCDecaux a few months back when commenting on its newly formed joint venture with Interstate Outdoor Advertising and its sister company, Foster Interstate, which had signed a 20-year contract with the City of Chicago to operate 34 large (up to 1,200 sq. ft.) digital billboards with 60 LED-display panels along Chicago City expressways.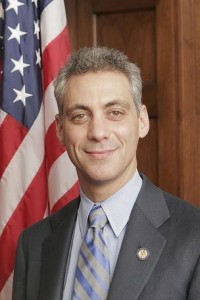 If that wasn't enough for Chicago we see that Chicago Mayor Rahm Emanuel really does seem to love digital billboards as he wants to do similar at O'Hare and Midway Airports and plans to introduce an ordinance that would authorise advertising giant Clear Channel Airports to develop, install and operate digital advertising concessions at the two airports.
According to the Chicago Sun-Times, Clear Channel in exchange would be free to take full advantage of, what City Hall calls the "ongoing evolution" of digital media, including: –
A 15-foot digital globe suspended from the ceiling of Terminal 3, billed as the first of its kind in the world.
More than 350 digital screens to replace static billboards that exist today.
Interactive digital directories, sorely-needed power-charging stations and virtual concierges for air travelers.
Recycling centers with 70-inch digital screens.
Vertical "living walls," featuring "foliage and water elements."
Rotating exhibit areas for Chicago area museums.
A free, location-based mobile app, known as "FlySmart," that allows frequent fliers to "interact with the unique airport environment."
Mayor Rahm Emanuel noted that Chicago's 1,300 billboards generate just USD one million in annual revenues but was quoted as saying "We're gonna produce hundreds of millions of dollars so we continually don't have to ask our residents for that money. We're gonna make the [billboard] industry pay it — all these companies that have been taking our taxpayers to the cleaners".
JCDecaux and Interstate Outdoor Advertising have guaranteed Chicago taxpayers USD 15 million in 2013 and USD 154 million over the 20-year life of the Chicago City expressways billboard contract.
Chicago hopes to generate as much as USD 270 million over 20 years through a revenue sharing arrangement that starts with 50 percent of the first USD 25 million.