Adrian J Cotterill, Editor-in-Chief
"Weebles wobble and they don't fall down" and looking just like a Weeble, there is seemingly no stopping serial company founder Dominic Brookman from trying to make his fortune in DOOH.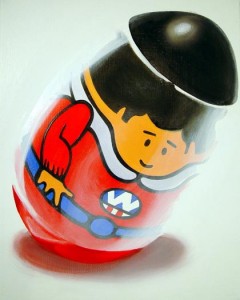 The latest news to reach our email inbox was that for Zest Outdoor Media. Zest Outdoor Media, previously Tangibal, was formed in 2008 and in December 2009 the ordinary shares of the Company were admitted to trading on the Frankfurt Stock Exchange (the company currently trades on the Entry Standard) – no doubt because everyone in the UK was wise to how they typically operate.
In January 14th 2013 Zest Outdoor Media acquired Infotech Group (see Digital Info Tech Ltd. vs Info Tech Digital here) and its so-called 'subsidiaries'; including VMG India, VMG North America, and VMG Malls.
The group claim to have advertising screens in Cinemas, Shopping Malls and Airports in the UK, USA and India and you can take their (other) claim to be a "a significant player in digital out of home media in the UK and India" with the proverbial pinch of salt.
Anyway the news was basically that the company intends to expand its screen network in part: –
Acquire a German out of home media company with over 200 live screens across premium shopping malls in Germany. The company has rights to more than 500 screens in Germany which are due to be installed during 2013
Sign an outsourced media sales deal with one of the world's largest outdoor media companies for the German mall network
Acquire a UK based outdoor media company with over 100 live screens installed in London retail stores
Sign an outsourced media sales deal with one of the UK's leading outdoor media companies for the London retail screen network
Build a US Mall network with Clear Channel the largest outdoor media sales company in the World
You have been warned.