Transport for London (TfL), Clear Channel and Wildstone announced this week the launch of 'The Chiswick Towers', a new premium roadside digital advertising site which pretty much copies the successful (and dare I say 'iconic') Ocean Outdoor Two Towers – which of course picked up a 'Reggie' for best digital billboard in The DailyDOOH Gala Awards back in November 2012 [1].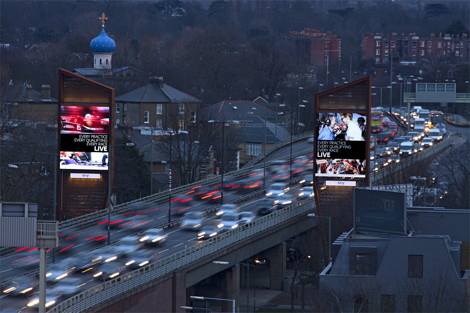 [2]
The Chiswick Towers development is comprised of two towers, each featuring double sided LED screens. The towers are situated on the M4 between Heathrow and central London, which, with a monthly reach of over 2.3 million road users, is probably the UK's most prominent advertising location.
Clear Channel will operate the sites and sell the advertising space. At launch, Sky is using the towers for a campaign showcasing its Formula 1 coverage.
The towers were designed, developed and built by outdoor advertising consultancy Wildstone [3] as part of its three year appointment to develop TfL's roadside advertising estate. TfL has set Wildstone the objective of maximising advertising revenue from its roadside property assets through raising the profile of its advertising estate and bringing innovative new sites to market. This will also support TfL's plans to utilise its assets to generate income which it will reinvest into the transport network.
Graeme Craig, Director of Commercial Development at TfL, told us "The Chiswick Towers are a fantastic example of the direction TfL is taking with its commercial estate. This will allow us to get the most out of our advertising sites and ensure that any income generated can be directly reinvested back into London's transport network, delivering value for money for fare and taxpayers, as well as enabling us to deliver improved services for our customers".
The towers are made from corten steel, a material synonymous with architecture and sculpture and are designed to complement both the natural and man-made environment of the local area. The overall scheme includes a landscaping and lighting scheme around the base of the structures on the Chiswick roundabout to improve the aesthetics of the urban environment.