Adrian J Cotterill, Editor-in-Chief
Those folks at Sidetrack Technologies (Winnipeg, Canada) have now completed their first LED tunnel advertising display on the London Heathrow Express (the picture on the blog shows it during construction).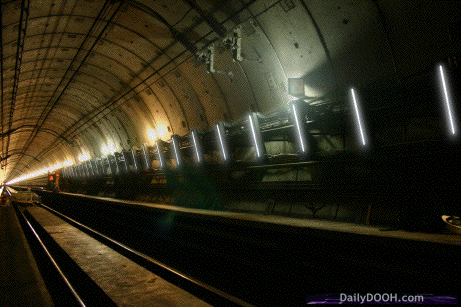 15 second advertisements light up the dark tunnel walls as the trains pass its display locations.
At London's Heathrow airport (between LHR and Paddington station) a total of 360 individual LED bars have been installed along a 450 metre stretch of tunnel track – as you can imagine this creates an advertising display nearly half a kilometre in length!!
Sidetrack has engineering reviews in place for similar systems in 9 cities to date; Boston, San Francisco, Los Angeles, New York, Toronto, Rio de Janeiro, Mexico City and Monterrey.
The most recent advert we have seen running is for FIAT.