Gail Chiasson, North American Editor
After an investment in R&D estimated at $3 million, Trans-Lux Corporation, Norwalk, Connecticut-based producer of LED digital displays and LED lighting technologies, used #2013SignExpo as the launch pad for three innovative new product introductions.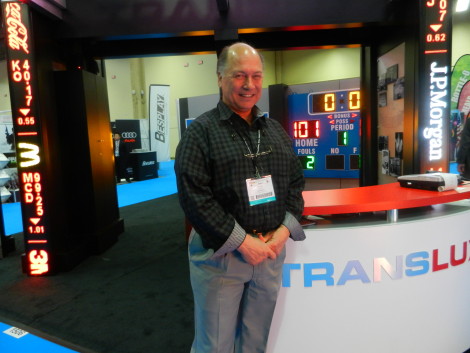 We have to admit that the one that impressed us most is what is believed to be the world's first and only 1.5mm pitch LED display BUT the others are equally geared for offering top LED display performance and efficiency.
They include a new TL Vision LED Cabinet System that virtually eliminates common alignment issues, expedites display set-up time, and reduces overall costs; and the 'epic' Series LED System Software Suite that makes LED display set-up, control and content management easier and more efficient.
#2013SignExpo was the first time that we had dealt in depth with TransLux and we learned a lot about the company from Craig Katt, the amiable senior vice-president, display technology. He took us through the company's rich history from the early days of the publicly-traded company more than 90 years ago to today. The company originally owned a lot of movie theatres, movie and TV shows and cartoons. It sold the theatres in the 1970s.
It also got into handling stock tickers – which it still handles for stock exchanges worldwide. It purchased Fair-Play, its scoreboard division in the 1970s, and today does approximately 100,000 scoreboards.
"We do video scoreboards, long data walls, and were one of the first sign companies to get involved in digital signage," said Katt,
The new TL Vision LED Cabinet Systems solve many of the longstanding alignment and installation issues integrators experience with LED displays, and open up new avenues for revenue generation in the rental and mobile display markets.
"A setup can now be done by one person in 20 minutes where it used to take a two man team up to five hours," said Katt.
It features an innovative locking design to provide fast, easy and accurate installation. The unique LED cabinets are designed with a precision machined interlocking mechanism that ensures virtually perfect alignment of the modules when configuring large screen LED displays.
The aluminum die cast cabinets can house any size LED pitch from 1.5mm to 25mm, and are ideal for both fixed and portable indoor or outdoor displays. The cabinets are slated to be implemented on all new LED display systems available from Trans-Lux.
The new TL Vision 1.5mm LED Display delivers exceptionally bright, HD quality images with superb colour reproduction and clarity. The groundbreaking 1.5mm LED video display is ideal for high resolution indoor applications with image quality that rivals HD flat screen displays – along with the ability to be customized.
"We see it for use in any commercial environment, in hallways, in retail – anywhere where high quality close viewing is needed," said Katt,
The new 'epic' Series LED System Software Suite is comprised of four modules that can be used stand-alone or as an integrated software solution. The software controller system does content management, scheduling, dianostics, has calibration capabilities and more. It can also interface with other third party software.
The new product additions to Trans-Lux's portfolio of TL Vision LED display solutions further expand the versatility and performance parameters for a wide variety of LED display applications.
Trans-Lux Corporation (TNLX) is a leading designer and manufacturer of TL Vision digital video displays and TL Energy LED lighting solutions for the financial, sports and entertainment, gaming, education, government, and commercial markets. With a comprehensive offering of LED Large Screen Systems, LED System Software, LCD Flat Panel Displays, Data Walls and scoreboards (marketed under Fair-Play by Trans-Lux), Trans-Lux delivers comprehensive video display solutions for any size venue's indoor and outdoor display needs. TL Energy enables organizations to greatly reduce energy related costs with green lighting solutions.