Gail Chiasson, North American Editor
We've been writing about Watchfire for quite a while but #2013SignExpo gave us our first chance to meet Dave Warns, vice-president, on premise sales, in person.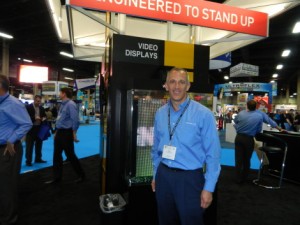 "Watchfire was founded 81 years ago, and we've been into LEDs since 1996," he said. "We have two arms: on-premise signage and outdoor."
The sign company is proud that all its products are manufactured in Danville, Illinois.
"We're all U.S. made," he said. "But what sets us apart is Ignite, our software package that runs content management. It has over 1,200 pre-designed images and clips that help clients to get up and running quickly.
"We offer custom content services, and, with every sign we sell, we do training with every employee involved. If a new employee moves into the client's company, we train them. And we train re all updates."
Warns says that the biggest digital sign the company has put up was at Cuyoga Community College, which was 20' x 60'. Another major client has been TitleMax which has helped Watchfire become known nationally.
Watchfire stresses its weather-resistant outdoor signs because each LED is encased in silicone gel.
"We've been in on-premise signage for 17 years but only six years in billboards," said Warns. "But we sell our boards to big companies such as Clear Channel Outdoor and Lamar. And we've sold digital boards in Panama, Chile, Canada, and as far away as Nigeria.
"We are already one of the leading companies when it comes to market share. We want to establish ourselves as the premier U.S. manufacturer of LED signage and the top partner for local sign companies."
To help do the latter, Watchfire has a rather unusual approach. Its sales people have the use of two dozen trucks equipped with signage across the U.S.. With one of these, it can set up a sign immediately in the parking lot of a potential client so he/she can see an example on-site immediately. It also shows how quickly a sign can be up and running.
Aware of the fact that governments and citizens often complain about the brightness of digital signage, all Watchfire signs, which are about 10,000 nits during the day, can be dimmed down to about 500 nits at night.
A recent client is WBOC-TV and FOX21, Salisbury, Md., which took their commitment to delivering high-definition broadcasts a step further with installation of a new Watchfire LED electronic message center. In choosing a new LED sign, WBOC-TV/FOX21 worked extensively with Phillips Signs, Seaford, Delaware, to find a dynamic sign that looked as good as its television broadcasts. It upgraded the illuminated plexiglass sign in front of the stations with a 7'5″x10'3″ XVS 12mm sign, Watchfire's highest resolution sign and the first of its kind in the area.
With Watchfire's Ignite Graphics software, the graphic design team at WBOC-TV/FOX21 was able to create custom content to promote upcoming shows, showcase special news segments, feature on-air personalities and deliver image-building messages. The sign was particularly effective during the recent ratings 'sweeps' period, updating the sign every day to feature high-resolution images that matched those featured online and on Facebook.
It's working with companies like Phillips, an exclusive Watchfire dealer, that is helping Watchfire achieve its goals.