Adrian J Cotterill, Editor-in-Chief
Prime Digital Media (PDM) seem to be the first to have used 3M's Virtual Mannequin to good affect in a proper business situation, here we see it in an Audi Centre in Sydney, Australia.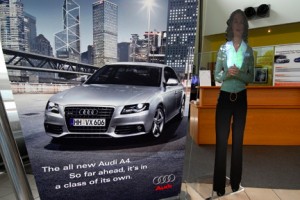 It's a shame that PDM term it a 'Holographic Virtual Assistant' – there's no need to call it Holographic and we much prefer the term 'Virtual Mannequin'…
The Holographic Virtual Assistant comes in the form of a lifesize, virtual installation with the holographic effect created using 3M's dynamic Vikuiti™ rear projection film and rear mounted video projector technology. With the unique characteristics of the Vikuiti™ film and PDM's expert digital content capabilities, PDM have transformed a 10 mm thick piece of perspex into a virtual, talking person.
Allan Brinck, Dealer Principal, Audi Centre Sydney told us "The Audi brand prides itself on innovation and quality and being a progressive brand, we are once again leading the way with this cutting-edge installation. We have been aware of PDM's track record of innovation in the Australian marketplace for quite some time. The Virtual assistant is a great way for us to connect with our customers and a great example of Audi's progressive brand coming to life."