Gail Chiasson, North American Editor
Orbit Micro, which we met at #2013SignExpo, has launched its first digital signage product, being sold from sister company Enoch Systems under which all the company's digital out-of-home products will now be sold.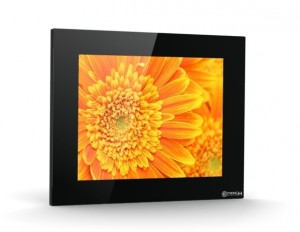 Called Display Vue, the product is a simple 15" all-in-one digital display computer, geared for digital signage and point-of-sale use.
Powered by a third generation Intel Atom processor and running Windows 7, DisplayVue A15 is compatible with most self-serve and information display software.
In other words, the client can choose its own preferred software content management system.
We're told that the silent and fanless design is so energy efficient that DisplayVue A15 can be powered using Power over Ethernet plus (PoE+) technology.
Mark Stone, vice-president sales, told us "We think our 15″ is a good fit for low power and small space requirements. This year we will be announcing an open frame version of the 15″ as well as 10″ and 22″ models, based on the same design principle as the 15″."
The product, which sells from $1,488, currently has been installed in two locations and is being tested in several others,