Adrian J Cotterill, Editor-in-Chief
Bonds, one of Australia's most-loved heritage brands, is set to revisit one of TBWA\London's most iconic campaigns to celebrate the arrival of its underwear range onto UK shores.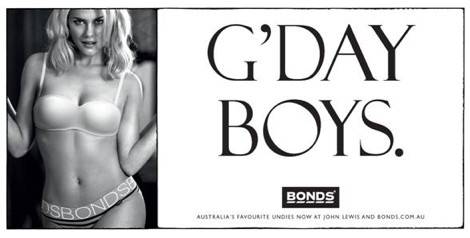 The collaboration between TBWA\London and Bonds pays homage to the original poster, mimicking it as closely as possible – aiming this time around to raise awareness that one of Australia's biggest and most loved brands is operative in the UK, with outlets in John Lewis, Oxford Street and Peter Jones, Sloane Square.
The original poster was first revealed back in 1994 of course, and quickly cemented its position in the advertising hall of fame. Widely regarded as the most iconic ad of all time, Hello Boys is famous for its role in growing the Wonderbra brand.
The campaign went live on 15th April and will run for two weeks. Three 48-sheet billboards will be present at three sites across London: the Chelsea Yacht Club, Kensington High Street and Finchley Road.
Credits:
Client: Pacific Brands, Bonds
General Marketing Manager, PBUG, Tanya Deans
Marketing Manager, Bonds, Zoe Hayes
Brand Manager, Bonds, Michelle Edgar
Creative Agency: TBWA\London
Chief Creative Officer: Peter Souter
Executive Creative Director: Andre Laurentino
President TBWA Group UK: Lindsey Evans
Account Director: Maggie Nukk
Account Manager: Kirsten Barnes
Media Agency: M2M media
Photographer: Nick Hudson via The Arc Factory
Model: Rachel Taylor
Hair: John Dee
Make up: Robin Black