Adrian J Cotterill, Editor-in-Chief
You have a football match set to kick off Wednesday at 20:00 BST, it happens to be the 78th edition of the West London 'Derby' – and as rival fans would say, "The pride of SW6 is at stake!" and although you might imagine that such a game, involving the mighty Chelski, chasing a guaranteed Champions League spot and popular Fulham would be sold out, it turns out that you actually have a couple of thousand tickets remaining.
What to do? Well the answer it seems is obvious, ring your friends at Amscreen (all, no doubt Spurs fans as it happens) and get the following advert up on 40 Amscreen displays in West London just as fast as you can…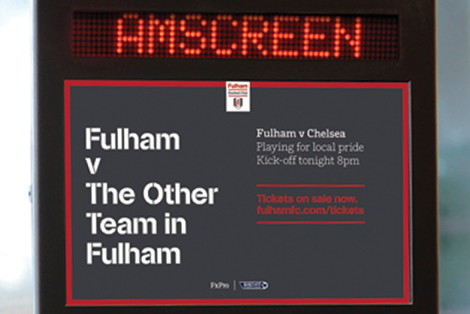 Amscreen CEO Simon Sugar told us that they got the booking late in the afternoon, the copy at 16:30 and the advert was up in five minutes (of getting the copy).
With capacity at Craven Cottage (Fulham's ground next to the Thames) 25,700 and last night's official attendance figure 25,002 – the last minute advertising campaign certainly did the trick!