Gail Chiasson, North American Editor
Bus stops across the UK are challenging the public to a Human vs. Machine quiz as part of a major campaign on behalf of outdoor advertising company Clear Channel UK to raise awareness of the thousands of interactive tags that have appeared at bus shelters up and down the country.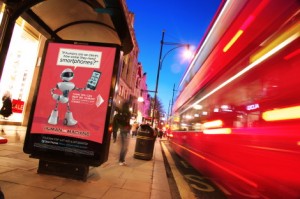 This week, anyone who taps or scans their smartphone on the NFC or QR tag next to posters featuring ADi, the robot quiz master, will have a chance to win £1000 of technology vouchers in a free-to-enter competition.
Every day, ADi is challenging thousands of people waiting for their bus or passing the bus stop with three new technology questions. Anybody who answers all three correctly can enter a prize draw and share their success with friends on social media.
The nationwide campaign is designed to raise awareness of the new Mobile Platform from Clear Channel UK. The platform launched at 10,000 bus stops last month allows the public to tap or scan panels next to ads to access content such as movie trailers and video clips; download vouchers and promotions; or locate their nearest restaurant or retailer. The platform is also rolling out real-time journey information so commuters can tap or scan their mobile to find out when their bus is arriving.
Matthew Dearden, CEO, Clear Channel UK, says, "The Human vs Machine game is a fun and free way for people to familiarize themselves with the interactive tags that have sprung up at thousands of bus stops right across the UK. With tags now on 10,000 shelters, the new service offers a simple but revolutionary way for people to access great content, download vouchers or get real-time journey information simply by tapping or scanning the distinctive panels next to advertising posters at their local bus stop."
The campaign is running to May 3/13.