Gail Chiasson, North American Editor
"Wow!" was the general reaction of several hundred advertising and media types along with various government officials at Montreal's Bell Centre as Astral Media Outdoor unveiled 'le réseau digital', its huge (14' x 48') digital billboards that will initially be going up around Montreal highways this spring.
A first of its kind in Canada, the digital billboard network – initially of 10 screens – features LED lighting to give screens outstanding readability day or night and offers millions of colours. Each screen carries six advertisements running for 10 seconds each. Advertisers can buy ads individually or as a network.

"The first screen will go up April 1 with others to follow," says Luc Sabbatini, president, Astral Media Outdoor. "Astral hopes to roll the network into the Toronto area next and then across Canada."
The boards have been purchased from Yesco of Salt Lake city, Utah, but Astral will control everything from its own new control centre being built in Montreal.
"We are building an outdoor digital network that incorporates state-of-the-art technology managed remotely from our ultramodern control and broadcast centre," says Sabbatini.
The boards are each understood to incorporate an investment by Astral of between $500,000 and $1 million.
"The great thing is that these boards are environmentally friendly, and that they eliminate the cost of printing on paper or vinyl, as well as production and installation costs," says André Allard, vice-president sales and marketing.
They are also flexible, instantaneous displays that allow advertisers to modify or change concepts at will – eg. adapting them to time of day or week, for an event, or geographical or weather factors.
The specifications and usage of the new digital network comply with regulations set out in legislation that regulates billboards along certain arteries in an effort to minimize possible impact on the safety of drivers. Astral received assistance from the Quebec Ministry of Transport in choosing site locations and also has an agreement on using the new media to issue road safety advisories and, in exceptional cases, emergency messages aimed at motorists and Amber alerts for missing children.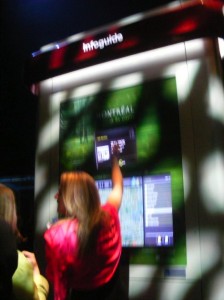 Also on view at the Feb. 10 event was a new style of Infoguide column, similar to Infotogo columns in Toronto. The Infoguide columns carry sides for advertising and an interactive main screen where users can pinpoint locations on maps and gain other information by simply touching the screen. (These carry the newest technology but, unlike Infotogo in Toronto, do not offer the option to pay and receive a map printout.) While the new Infoguide columns are still being tested, they are expected to be installed in Montreal – many near the locations of a new bike rack network, carrying non-digital advertising, also unveiled for Montreal.
In addition to these, Astral also displayed new solar-powered transit shelters being introduced in Toronto.