Gail Chiasson, North American Editor
This month we welcome Kaveh Memari, CEO, of Renew, London, U;K.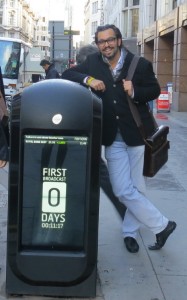 Renew with its City Network is not well known outside the U.K.. I believe it has taken many years to launch. Can you tell us a little about your thinking behind the launch?

A culmination of setbacks and delays meant that our launch in 2012 coincided with the London International Olympic Games. At that time, London was not only the Capital but the Hub of the global financial world. We went from a soft launch of 13 Pods on January 26 to the full deployment of all 100 Pods by November.

The Olympics provided a wonderful stage to showcase the product (which featured heavily on the mapped Marathon route), and allowed us to make a prominent statement: 'We have arrived!'

Your product is a type of street furniture, offering a digital out-of-home screen set into a large recycling container for newspapers. How large are the screens?

Each pod houses two eco-friendly (i.e. LED backlit with adjustable dimming as light levels reduce) sunlight readable LCD screens. Renew is a very topical type of street furniture and fits perfectly with the current dialogue that local, financial and transport authorities are having regarding the theme of 'Smart Cities'. It is about providing multiple social functions and benefits, without cost to the public, and of course, the 'Internet of Things'.

The two screens are essentially two web-browsers on the street for which we write code. The screens (or the street browsers) are 32" screens at 1,366 height and 768 width. They play back a live stream of advertising and content. Renew now operates 200 screens in the City of London, and you can see their individual location by clicking on the map link and further clicking on each site

Whose software do you use for content management? What do you feel it gives you that others don't?

We ended up developing our own software stack. At launch, we had our supplier go bankrupt and we had a choice of buying what was in the black box or just building what we needed. The main idea we had back towards the end of 2011 and beginning of 2012 was 'Why do you even need software? Why can't you just go in a browser?' With all the advances that we have seen in HMTL 5, it is incredible what a browser can do. And, of course, being in a browser meant that any device with a browser could also see the content.

So, in 72 hours, we took out the system we had built over a year on top of a shaky CMS platform and the rest is history. As for the differences, I can tell you one bit of a functionality that is neat (besides being visible in browsers, that is!). One of the things that we found the Out-of-Home industry almost obsessive about is the idea of the 'loop'. The system we built allows us to schedule how many times we wish to see a client's advertisement over any given hour. For example, we can run three standard 10-second slides in a minute for any given campaign (therefore 60 spots every hour), whilst simultaneously offering time-specific distinctions on super heavy rotation (eg. a 5-second ad in a 20-second loop during morning, lunchtime, or evening). In the evening we can serve from 17.00 to 21.00 a 5-second ad every 10 seconds for a total domination of the channel – and our systems dynamically serve all of these loops at the same time.

What does this mean for a client? Well, our loop is whatever you want it to be. You tell us how heavy your campaign needs to be and we will serve that. You tell us how long your creative is, and we will serve that. This is nothing terribly innovative – online advertising has been using the idea of 'frequency cap' for over 15 years. We are just applying it to a new medium.

What kind of measurement do you use? Are all screens measured? And why do you prefer this system?

Initially, we had to get a heatmap of pedestrian movement in the City of London. This was tricky as most measurements street side were vehicular based. So we commissioned a study by Intelligent Space Partnerships, a UK private company which has since been acquired by WS Atkins, to build a heat map of every-single block in the City, showing the busiest streets. We also gathered information on the types of land and found out that there were nine different profiles.

Having run hundreds of data points, we were able to establish, eg, that the footfall range was significant: over 30,000 per day around Liverpool St. Station but only 8,000 around Gresham St., blending an average footfall across our sites of just over 15,000 per day. We also found that this footfall typically breaks into thirds: one-third in the morning as the end of the professional commute before our audience walks into Deutsch Bank, UBS or Goldman's, or other place of work. Most of them will eat between 12 noon to 14.00, and most of them (you would hope) go home at some point that night (mostly from 17.00 to 21.00). This enables us to day-part advertiser messages. Since deployment, we have been working with research partners to evaluate the opinions of consumers, with on- street intercepts – and, more recently, testing sniffing technology for MAC addresses to build a dynamic flow data for our pods. We are currently evaluating Route and Quividi audience measurement.

What kind of content do your screens carry? Who produces it? How much of it is advertising? And is it all controlled from one location?

We have editors and journalists who come to work every morning at 06.00 am and produce the content. We have a direct editorial license and use Getty, AFP and Bloomberg images to construct breaking headline news and financial market stories. We also code automated slides that pull data live from the London Stock Exchange and TfL. The content creation is all controlled centrally from our London office and we power the London, New York and Singapore pods all from our London HQ.

Advertising will account for as much of the airtime as there is commercial demand. Would we carry 100% advertising? That would be a high-quality problem and a sign that perhaps we are selling too cheaply! We will always carry critical, live and useful information to attract eyeballs.

How did you get into this business?

I wanted to be involved in a media project that I could also feel good about. Since we have launched, we have not only delivered over 2.0 billion spots on the City streets, but we have also saved over 1,000 trees. That is significant.

I gather that you must have a contract with the City of London, and, perhaps with the newspaper publishers, as well? How does that work?

We have a 20-year contract with the City of London (2012-2032), for the deployment of between 100 to 200 Renew Pods, which would give us anywhere between 200 to 400 digital screens in the Square Mile. The contract works very simply in that we invented, manufactured, deployed and now maintain a smart-city information/safety/recycling solution at no cost to the City. In return, the City provides over 280 collections per day of the recycling material within the Pods and gives us the permission to run and operate the Renew Network.

We have also been tested and used as an Emergency communication platform by the City during the London Olympics. Our ability to carry a message across the entire network in under three minutes has been a crucial part of the service that Renew provides. This was one of the main criticisms of the 7/7 Committee Report when it came out that there was a lack of communication between Emergency Response and the general commuting public. Renew is prepared to play its part within that scenario.

Who handles the emptying of the containers for recycling? Do the screens get moved or touched at all with that happening? How is maintenance of the screens handled? And are the receptacle and screens bothered by graffiti?

Enterprise is the outsourced collection partner of the City of London. We gather two daily reports on all the Renew Pods and there is a less than 60-minute response time from a Renew Pod appearing full (75% full) to a confirmed collection of that site.

The collection partners have specialized wrenches that are used to open up the Renew Blast Modules (or B Modules) which house the recycling. City Enterprise has no interaction with the screens (other than to check the clock – as we have been told. They like to know when their shifts are over).

We have our own dedicated Engineering team on the street from 07.00 to 19.00 and on weekends. As we operate in a square mile, the on-street man in van operation is vigilant and can get around easily. Our screens, as they are live browsers, are continuously reporting back their status and you can walk from one end of the City to the other in less than an hour, so we have a very rapid response capability. We own the Renew Pods so we maintain them as smart city information terminals on the street. You can regularly see our teams out there polishing them. The skin of Renew Pods is made from fiberglass like a surfboard and you can get a very nice shine out of them with enough love. There has been one incident of graffiti in the last 400 days of operation and it was easily wiped off, due to the wax that the skin is treated with.

In terms of what you wanted, do you feel that the screens and containers are a success? What are your plans for expansion/growth in the near future?

We have currently deployed a Renew Pod in Lower Manhattan, four in Singapore, one is being air shipped to Dubai next week, another is en route to Brazil. We have a task force working on Germany and we have had a lot of support from JETRO, the Japanese External Trade Research Organisation to take Renew to Tokyo's mass transit network. We are a very small team and although we have full time presence in London, New York and Singapore, we have to be careful not to over extend ourselves. So this year, we are looking for key operational partners in markets where we are looking to expand. We are looking to expand and for joint venture arrangements that will hopefully remove us from the bottleneck holding back both Renew's expansion and success globally.

What kind of advertisers do you have: local, national, global? Is there a particular sector that you do not have as an advertiser and that you feel would especially benefit and you would like to add to your portfolio?

We have local advertisers, such as the Lord Mayor's Appeal, and we have international advertisers such as CNBC. We have been running a recent initiative to 'Go Local' as we are keen to support the local businesses directly in the City (particularly in this tough trading climate). When you are on-foot, the here and near is important.

Our audience is professional and wealthy so the type of campaigns you would see in an airport fit very well and we would represent a great value platform for them. If you take all entry and exit passengers across all London airports and regional airports, you get approximately 220 million passengers. If you only look at the Entry and Exit figures from the Tube – and many professional commuters come into the City by train – you get approximately 350 million passengers. That is a great audience that makes four times the national average. They are not going to drink four times as much Diet Coke, but they have great disposable income and we just need to marry them with the right campaigns. Finance, automotive, airlines are key categories.

Who owns Renew? Are you open to being bought, selling or merging? Why or who not?

Renew is held by over 60 or 70 shareholders and has been backed by HNW investors which includes Lords, Sirs and footballers. They have been a tremendous support base in Renew's development over the years. More recently, we were supported with asset financing from the Qatari investment bank – QIB. We are at the beginning of our journey. Once we secure three other global destination like London and show the ability to localize the Renew Network from Kuala Lumpur to Manhattan, we will be in a better position to explore partnerships with the right local partners.

Are you profitable yet? How does 2013 look at this stage?

We are constantly striving to make a profit. What we can say is 2013 is looking great. It is the first year that we are operating with the full Network. Before the end of the year, it is our objective to have worked with most agencies and specialists and to have established the commercial pipelines that are so very tricky to navigate in the UK media market.

What is your repeat advertising business like? Do you have any client that has been with you constantly from the beginning?

Sure. We signed with CNBC as we were completing the Renew Network. Most other clients at this stage are experimenting with the format. I think in Year One, we will do well to get as wide a range of clients as possible to test this format and see what it can do for them.

I see that World Wildlife Federation is a partner and that 1% of your profits goes to this organisation. Why did you decided on this charity specifically? Do you also carry any other charitable advertising?

WWF's ethos is consistent with Renew: the ability to not approach the same problem from a combative but cooperative point of view. We also work directly with United Nations on a host a very important causes from Women's Day, the Millennium Development Goals, to more ongoing surveys about what we value in civil society. We additionally ran a campaign for ICAP which was very successful and generated high responses for the client.

We are one of the three official media partners of the Lord Mayor's Appeal this year, along with the Financial Times and CNBC. This involves the fact that while there are many great music programs that train very talented musicians, when they finish their training end up serving Cappuccinos in the local coffee shop. This is a huge waste of talent and the Lord Mayor's Apeal initiative is looking to place some of these talents and worthy musicians on a more focused track.

Have you changed/improved your screens, software or content since your original launch?

Hugely. We worked for over two years creating our channel guidelines with tickers, clocks, all sorts – like minimalist Reuters screens. We asked a couple of hundred people what they thought and we found out that the last thing that people wanted was another terminal on the street. They wanted a big simple image and a bit of copy – news, sport or entertainment, etc. We scrapped the Channel guidelines in three days, simplified and cut back. That's the great thing and true certainty of Renew: change. At Renew we serve our sacred cows medium rare.

Do many clients use your screens for promotions? Can you give us an example?

Sure. The Lord Mayor has about a dozen different events and pushes people to sign up to participate in the various programs and schemes. Barbican, when it launched the New Cinemas – a campaign that was on heavy rotation on Renew – resulted in some fantastic numbers in online sales during the campaign on the street.

Please tell us about your company strategy and about your plans for the future?

Our plan is to allow Renew to blossom with the right partners in various key markets in Asia, Europe and the Americas. We are actively looking to expand into four new territories and we will be exploring a mixture of business models. This proved tremendously powerful in the case of Ocean Outdoor, for example, as taking all the risk and having all the reward would be an expensive way of growing the Renew Network.

What is your general view of the digital out-of-home sector's growth in the U.K. moving towards 2015 and beyond?

This is a question better answered by the gurus of out-of-home. We are just the upstarts.