Gail Chiasson, North American Editor
Blue Bite has collaborated with Kinetic and TEAK on a multimedia campaign for JanSport that involves NFC and QR codes.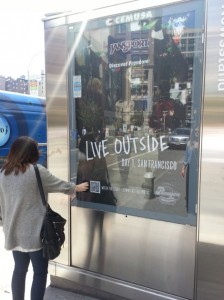 JanSport offers backpacks, totes, laptop packs, and other outdoor gear as well as collegial sports apparel worldwide.
The campaign, which is deployed across CEMUSA newsstands, transit shelters and dedicated wild posting sites in New York City, gives consumers instant access to exclusive video content and free songs that they can view or download to their mobile devices.
The traditional signage component created by San Francisco-based TEAK, features high impact lifestyle imagery showcasing its Live Outside campaign, which chronicles an indie band on a road trip from San Francisco to Austin. The creative prominently displays Blue Bite's proprietary mTAG, which allows consumers with NFC-enabled smartphones and tablets to tap their device on the poster to view the custom video content created by JanSport, as well as listen to free music from sponsored local bands. Each poster also has an accompanying QR Code that consumers can scan with their smartphones to access the multimedia content.
The addition of interactive QR Codes and NFC capabilities to traditional signage gives JanSport, a brand rich in heritage, the ability to extend its awareness campaign and provide consumers with a variety of entertaining videos, free music and a more intimate look into the world of JanSport. The interactive features from Blue Bite make the connection from physical to digital easy for busy New Yorkers.
"We're excited to partner with Kinetic and TEAK on the JanSport Live Outside campaign," said Mikhail Damiani, CEO and co-founder of Blue Bite. "By combining traditional signage with mobile interactivity to engage passersby on their mobile devices, we're giving a new, modern twist to traditional advertising."
We asked Damiani whether NFC or QR codes are the more popular.
"Over the past two years, we've seen a significant shift from QR codes to NFC, but QR codes are still the more used," he says. "However, as the market gets more familiar with NFC, and as more phones are equipped with NFC, I think we'll see NFC take over. The interesting thing here is that the mobile component makes static almost become digital."

"Mobile integration gives JanSport the opportunity to make a more meaningful connection with our audience by layering in content, music in this case, that adds value, enhances our brand message and encourages deeper consumer participation with the Brand," says Courtney Blacker, JanSport brand director.
Maureen McCloskey, group director at Kinetic WorldWide, says, "JanSport's Live Outside creative provided a great opportunity to add mobile amplifications. By partnering with Blue Bite, we're able to obtain real-time measurement and understand the consumer impact of this campaign."