Tropicana is spreading sunshine among London commuters with a major Outdoor campaign immersing audiences in the brand, across rail environments for two weeks from 6th May.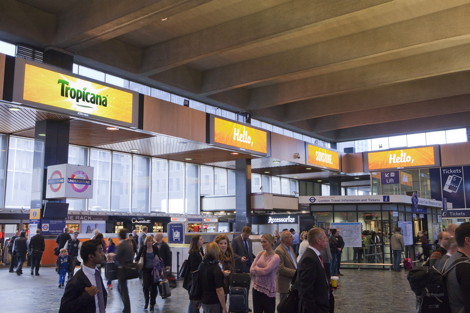 The campaign with JCDecaux was planned and booked through OMD UK.
The London-wide rail campaign promoting Tropicana Single Serve includes high-profile media space at Euston and Paddington Stations.
At Euston Tropicana is deploying the Euston Immersion Zone comprising giant orange full-brand wraps, digital escalator panels and digital 6-sheets. Passengers on the concourse will be surrounded on all sides by the brand, with creative running across the nine Euston Motion screens. At Paddington Station, media space includes imposing hanging banners and digital 6-sheets.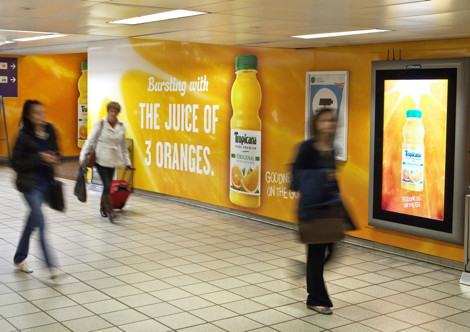 The campaign continues with large-format locations and digital media across London stations, all in close proximity to retail outlets offering Tropicana Single Serve.
Using digital to its full potential, digital 6-sheets will enable Tropicana to target London's morning commuters between 6 and 10am, extending the campaign's reach when most relevant.
The campaign delivers mouth-watering digital copy, greeting commuters with images of Tropicana's 'Sunshine Slice' of juicy oranges and bottles of Tropicana Single Serve with straplines such as, 'Good days come from good mornings', 'Your first of five a day' and 'Pocketful of sunshine', highlighting the portability and key product benefits to London commuters.
Jonathan Conway from OMD UK told us "The boldness of the formats, coupled with contextual and time-specific digital messaging, will deliver an unmissable brand message to London's commuter audience. The domination of key transport hubs will 'Paint London Orange', helping Tropicana to bring brighter mornings and goodness on-the-go to millions of commuters."
This prominent activity across premium Rail environments is part of a multimedia campaign including Digital, OOH and TV.