Ayuda Media Systems [1], makers of the world's most sophisticated software platform for traditional and digital OOH companies, has today unveiled Post, an Android app that offers mobile workforce automation to OOH billposters.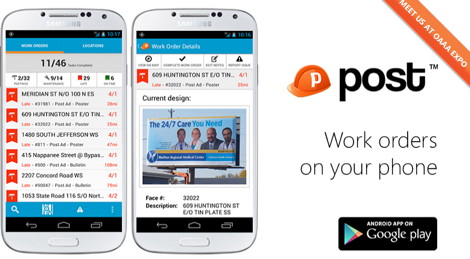 [2]
Post can integrate with any OOH system, because it has been built using Web services. It's backbone is cloud-based, which runs on Windows Azure. Post dispatches work orders to its users in a visually rich way. Work orders can be managed by BMS, Ayuda's flagship product for traditional OOH operations management, or be fed from a third-party source. Billposters received instruction on the device, such as what to post, where, when, or what maintenance tasks to perform. They can also create maintenance tasks on the fly. Post takes advantage of image processing libraries to offer (1D and 2D) barcode scanning, and also takes advantage of GPS on the device. Post™ wraps up the process by instructing the billposter to take a picture of the completed work order, which is fed wirelessly to the Ayuda Proof of Performance engine. In addition Post also offers in-depth business intelligence on the efficiency of the billposting process. It comes with a beautiful HTML5 dashboard that allows the billposting manager to analyze the performance of his plant. It can answer questions such as "Which billposters post the fastest? Which billposters make the most errors. How many postings has this billposter completed over the last week?".
Andreas Soupliotis, President and CEO told us "In 2005 we introduced BMS™ Mobile – the first workforce automation for OOH billposters. Today, that product is being replaced by Post™, our newest and most complete OOH workforce automation tool ever built. It includes rich work order and posting management, crew and route management, copy management, GPS validation, barcode validation and stamping using either the onboard camera (as opposed to a laser scanner), and picture taking for Proof of Performance purposes." When Soupliotis was asked why Android was the chosen operating system for Post™ he commented "Years ago we used to recommend ruggedized, foolishly-expensive devices (e.g. Motorola/Intermec/Symbol) that run on hard-to-use tethered stylus-based operating systems like Windows Mobile 6.5. Both that hardware and operating system are legacy and are headed in the fast lane for end-of-life. Today, we are all using phones that offer beautiful user experiences that have made us familiar with using a finger to navigate through the OS. Finger touch is fun and easy. And the replacement cost of one ruggedized device is equivalent to the replacement cost of 10 Android phones. This means you can drop and break an Android device 10 times before you need to replace one ruggedized device."
Soupliotis continued "Android is the most dominant mobile operating system in the world today. The beauty of our solution is that billposters can use their own personal phone, and just go to the Google Play store and download Post™. They need only sign-in, and they can start working immediately. Having billposters use their own personal devices is a cost-effective measure for OOH operators that outsource their billposting because it means they don't have to buy them devices. As a general rule to maximize longevity, IT decision makers should avoid making investments in vertical, expensive hardware when inexpensive, commoditized hardware fits the bill perfectly. In this regard, Post™ is ideal for saving money."
Post™ is currently available on the Google Play store.