Gail Chiasson, North American Editor
In New York Monday, Blue Bite announced the launch of a mobile campaign in partnership with tenthavenue mobile marketing agency Joule, and Paramount Pictures, for the recently released Star Trek Into Darkness motion picture.
The multimedia campaign, which launched earlier this month across large format Clear Channel Outdoor and JCDecaux airport displays, now drives consumers to exclusive content that they can view or download to their mobile phones.
The team at Paramount Pictures created eye-catching, colorful art featuring Kirk, the main character of the Star Trek film, holding a phone-like communicator in his hand. The creative invites users in any one of four major U.S. airports to take 'The Future Into Their Hands' by tapping Kirk's communicator, to unlock exclusive video content. Powered by Blue Bite's proprietary mTAG platform, the campaign enables consumers with NFC-enabled smartphones and tablets to simply tap their device on the airport displays to seamlessly gain access to the mobile media without having to download any external applications.
Blue Bite also worked with Joule to create the custom mobile experience which enhanced the outdoor campaign, rather than simply repurposing the same assets, further approaching true channel convergence. The coupling of mobile interaction, especially NFC, with out-of-home media, is providing an effective, natural way for Paramount Pictures to connect with its Star Trek fans. The addition of this interactive component to the out-of-home environment showcases the ability of the mobile phone to enhance the messaging beyond awareness and introduces an exciting and simple element of engagement.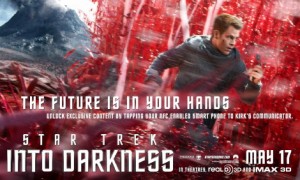 Of working with Paramount Pictures and Joule on a mobile campaign for such an iconic title as Star Trek, Mikhail Damiani, CEO and co-founder of Blue Bite, says, "This program is a perfect fit all-around: the movie-centric content is highly desired by consumers, and the dwell time in airports affords them the opportunity to consume as much of it as they want."
Speaking about the opportunities that NFC technology provides, "We feel that Star Trek is a great property to take advantage of it," says Faye Ugolnik, senior vice-president of media, Paramount Pictures. "With this advanced technology we are able to connect multiple mediums and deliver content seamlessly to engaged consumers on mobile devices outside of the traditional mobile media models."
"Star Trek represented the perfect title for us to launch an NFC enabled campaign," says Greg Crockart, co-president, Joule. "The high tech feel of 'scanning' an NFC chip combined perfectly with the Star Trek brand, and allowed passionate fans to unlock exclusive content in an exciting new way."