Gail Chiasson, North American Editor
Well, it's not digital, but as a native Nova Scotian, this fun advertising promotion by Pattison Outdoor Advertising and its experiential marketing division Fourth Wall Media really caught my eye, and I'm claiming editorial privilege to write about it!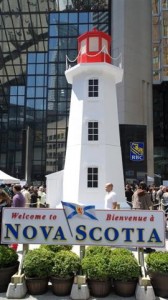 Pattison and Fourth Wall teamed up with Extreme Group and Nova Scotia Tourism to bring the vibrant culture of Peggy's Cove and its iconic East Coast lighthouse treasure to the streets of Toronto.
Last Wednesday, May 15, an authentic 28-foot replica of Peggy's Cove Lighthouse was unveiled at the corner of Bay and Wellington (RBC Plaza) in the heart of Toronto's financial district where it will loom large for three weeks. Visitors were given the opportunity to feast on culinary treats and listen to world-renowned music from Nova Scotia.
Extreme Group of Halifax and Nova Scotia Tourism worked closely with Pattison Outdoor and Fourth Wall Media to ensure the creation of a meticulously designed replica of Atlantic Canada's most photographed structure. The impressive recreation lived up to the quality and expectations of the entire design team's vision in bringing the real Peggy's Cove iconic structure to life and a little piece of the East Coast to Toronto's core.
"Fourth Wall Media is very excited to launch a one-of-a-kind Out-of-Home experience at Peggy's Corner in downtown Toronto," says Dmitri Melamed, general manger and vice-president of production at Fourth Wall.
Ah, now if they could only send to me in Montreal the smell and the sounds of the Atlantic Ocean waves lapping the rocks around the real Peggy's Cove Lighthouse, I'd be a happy camper!