Adrian J Cotterill, Editor-in-Chief
The European AV press was unanimous in its praise for last week's #NECshowcase – AV News billed it "the best yet" and just over 1,100 'punters' who made their way to the Tobacco Dock in London (and the 150+ who stayed on at the end of the day for the drinks) would probably not disagree!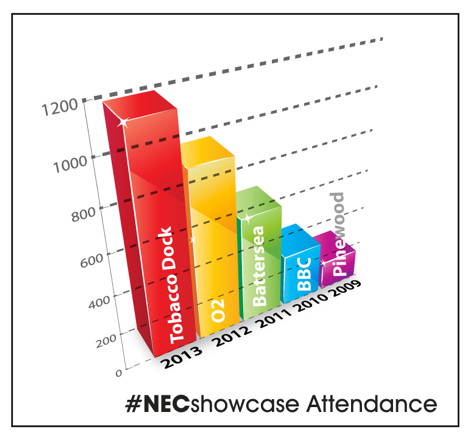 Simon Jackson, VP NEC Display Solutions told us "This was our biggest NEC Showcase yet, welcoming over 20% more visitors compared to last year, nearly half of whom were end users which reflects our dedication to create customer focused solutions".
Simon continued "We have received excellent feedback regarding the diversity of solutions. In some cases up to six different companies are collaborating together to create an end-to-end solution" – note to readers, there were nine 'zones' exhibiting display solutions dedicated to applications in retail, education, transport, healthcare, leisure, corporate, media and digital out-of-home (surely demonstrating NEC's commitment to a wide range of vertical markets).
It wasn't just praise from the UK either, industry influencer, blogger (and Spaniard), Rafael Negro wrote over on his blog (it was in Spanish of course, we used Google Translate to get the gist), "It's the first time I visit … Why this year, then? Two main reasons have led me to go"
Rafael continued "On the one hand, this exhibition 'replaces the extinct Screenmedia London Expo and the Digital Signage event in May .. and second, the invitation to the conference 'Videowalls unplugged' sponsored by DailyDOOH / Ministry of New Media".
You can see from the chart (shown above) how the event has grown; attracting 250 people to the first event held at Pinewood Studios to the size it is now.
The #NECshowcase has seriously become 'THE must-attend AV and Digital Signage event of the year in the UK' (and is starting to gain a lot of exposure in continental Europe as well) but there is always room for improvement – regular readers will know that we are not shy of giving our opinions and making suggestions (sometimes crazy, sometimes not) and here's what we would like to see next year…
More partner events. It doesn't make sense for folks like Scala to have their biennial Partner event in the Autumn and on the continent when there is a ready made exhibition to butt up against. Scala should hold their next European partner event in May 2014 in London the day before or the day after the #NECshowcase. Note: if there are any other software vendors who can gather 100+ partners in one place (and frankly we doubt that there is) they could also hold an event that week
OVAB Europe Conference. Every year as part of #DpbMedia week, the DPAA hold their annual DPAA Digital Media Summit (the 6th such conference takes place this year, October 22 at the New York Hilton) but despite the insistence of invidis, OVAB do NOT have anything similar. It's about time they did and there is no better place than London, for the media world for that to take place
#AVTweetup. The Americans put us Europeans to shame when it comes to getting industry influencers and press together. A Vegas or Orlando style #AVTweetup early one evening is a must.
Breakfast Briefings. Why did the UK's Screen Forum hold a Breakfast Briefing this week May 21st, i.e. a week after the #NECshowcase, when it would surely have made much more sense to hold it the day before or after the #NECshowcase itself?
Thought Leadership Summit One of our speakers at last week's Video Walls Unplugged event told us that "they couldn't remember the last time they presented to an audience close to 100" (we had 93 people thru the door, with a capacity of 100 – having 'sold' 113 tickets) so the event was a rare success story for an on-the-exhibition-floor 'conference'. Once we get through the final planning stages for 'Billboards Unplugged' in NYC and our first Video Walls Unplugged in North America we will be looking at another TLS in April 2014 as part of the #NECshowcase
Content Day Unconference. Bluefox and ourselves haven't held an unconference for some time now – the best of which attracted 28 people to Paris in January 2011. It may be time to get those going again BUT as we know from our our experience with Chelsea vs #ScreenmediaExpo they need to be the day after a trade show as so many folks are involved in setting up