Adrian J Cotterill, Editor-in-Chief
Here's a reason why we desperately need a DailyDOOH contributor down under cos' we missed big time the great work that Inlink Media & Technology have been doing – to date these folks have invested $4.5 million to 'media enable' over 200 premium office towers in 6 capital cities around Australia and installing a massive 1,032 digital screens in the process.
Inlink Media & Technology are the leading player in Australia in what we would describe as the 'office tower media' market, i.e companies like the Captivate Network and the Wall Street Journal Office Network in the US.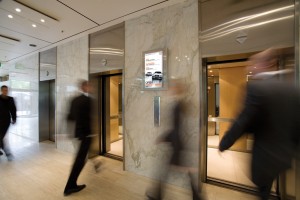 The digital office tower media sector is one of the fastest growing segments in the Australian
out-of-home media industry. It's estimated to have achieved over 40% revenue growth in 2008.
Current sector spending is around $10m per annum and is likely to continue to achieve strong double digital growth in 2009 despite the current economic downturn.
Inlink can claim to have founded the office tower media sector in Australia back in 2001; installing its first displays in the Citigroup Centre (2 Park Street, Sydney) and now has something like three times more digital advertising displays installed than its nearest rival.
Its advertising clients include Australian Financial Review, IBM, Telstra, Tourism Australia, Mercedes and Lion Nathan.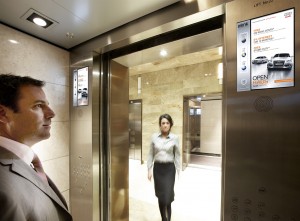 Like the Captivate Network in the US, Inlink's screens deliver a combination of real-time news programming (in this case from AAP) as well as fully animated digital advertising – designed of course to engage a captive audience of business professionals whilst they wait for and ride in office tower elevators.
Managing Director Oliver Roydhouse told us "We have now installed digital displays in 1 in 5 office towers nationally and our audience reach exceeds that of all the leading business publications"
Using Property Council of Australia guidelines which accurately calculate building populations based on office area, Inlink can lay claim to an audience of business professionals exceeding 540,000 unique viewers per week!