This could certainly apply to either out-of-home or digital out-of-home, and while in this case it was OOH, we thought it was a fun demonstration of the strength of advertising on the medium.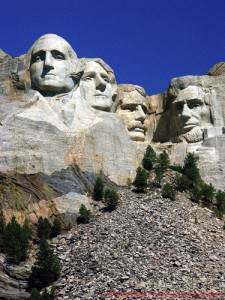 [1]A recent OOH ad campaign asking consumers to choose the next face to be added to Mount Rushmore [2] demonstrated the power of OOH to drive social and mobile interaction. The Rushmore Vote campaign, a test campaign sponsored by the Outdoor Advertising Association of America [3] went viral, generating online responses from consumers in every U.S. state – and nearly two-thirds of those who visited the polling website lived outside the four targeted markets.
The campaign placed 164 billboard and bus shelter ads in Cincinnati, Sacramento, San Antonio, and Phoenix. Consumers were asked to vote online for the new face on Mount Rushmore: either George W. Bush or Barack Obama.
When visitors to the website [4] were asked where they learned about the poll, 75% credited roadside billboards or bus shelters.
"This relatively small OOH campaign drove online traffic from across the country," says Nancy Fletcher, OAAA president and CEO. "Even those who learned about the campaign online were aware it originated on OOH ads, painting a clear picture of the medium's role in today's evolving interactive landscape."
An analysis of the campaign by media and marketing research firm Arbitron also found 57% visitors to the voting site used a mobile or tablet browser to access the site. This finding underscores the relationship between OOH and mobile devices, making a solid case for direct response marketing.
Over one-third (37%) of referral traffic across all markets came from social networks. Among the traffic, Facebook was the leader at 79%. The four-week campaign generated 17,681 user sessions with 15,679 unique visitors.
Voters overwhelming agreed Mount Rushmore is fine the way it is, with 69% indicating neither George W. Bush (11% of the vote) nor Barack Obama (20% of the vote) should be added.