Gail Chiasson, North American Editor
Flixio Studios has signed a multi-year partnership with Giraffas USA to provide design, production and content in a zoned approach for all the company's U.S.-based restaurants.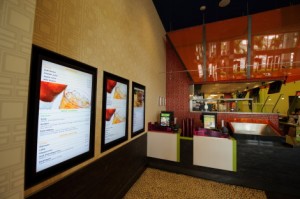 Giraffas is a Brazilian food quick-service restaurant franchise operation. With over 400 locations in Brazil, Giraffas USA is poised to grow in North America where it already has six restaurants in Florida – one opened in Orlando last week – and plans for 25 more by the end of 2013. The company expects to put more in the Washington, D.C. Metro area over the next five years, a lot more in Texas, and up to 2,000 locations across the U.S. in the next decade.
"People associate Brazil with beaches, sunshine, soccer and more but are not that familiar with the food," Kirk Vanderleest, vice-president digital at Flixio Studios, headquartered in Portland, Oregon, told us. "Giraffas is Brazilian burgers and steaks, which presents a very unique opportunity, We're meeting with their people to work with them and their agency on branding 'Brazilian' to a North American audience. A private company, Giraffas is viewing digital signage as a tremendous way to help it communicate brand messages. And with the World Soccer Cup and Summer Olympic Games in Brazil's future, we hope to incorporate these and Brazil's lifestyle into content, especially on the dining room screens."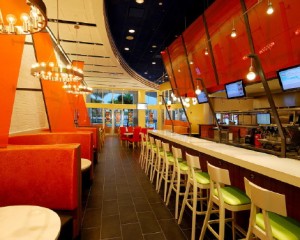 Current installations in each restaurant include: five display landscape digital menu boards; point-of-sale ad screens for cross-sell and pairing optimization; six displays projecting 'Giraffas TV' throughout the Dining Room; and three displays featuring promotions/queue messaging.
"We hope to take a disciplined approach with all the new installations, which will include menu boards, screens in the dining room, the promotional queue screens, and then the algorithmic screens where, when people place an order, good pairings can be suggested to them," says Vanderleest.
The current six restaurants use content managemant by YCD MultiMedia/C-nario and DT Research but all new ones will use DT Research and Signagelive I wouldn't be surprised to see the original six switch over to Signagelive as well, Ed.
Giraffas USA is based in Miami and Flixio, which has a solid 14 years experience of providing digital content for all types of screens for such companies at Starbucks, Gap, Build-a-Bear, Logitech, Kidsmart and numerous other companies (including the #dse2013 videowall) connected through mutual friends when Giraffas was looking for better content. It will be handling all content for both the existing restaurants and all new ones across the U.S..
We asked Vanderleest whether Flixio would be doing content for the 30-year-old Giraffas in Brazil.
"No. Not yet," says Vanderleest with a smile. "But maybe we'll win them over."