Gail Chiasson, North American Editor
In addition to using the most advanced technology in medical devices, MidMichigan Medical Center, Midland, Michigan, has adopted new wayfinding technology.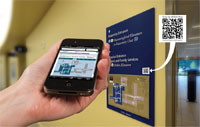 Visitors to the Medical Center can now view online internal building maps by scanning a quick response (QR) code with their mobile phone or device. The new codes are posted throughout the facility on selected signs and near elevators.
Scanning a code will bring up a map of the area where the visitor is standing. The same maps appear on the Medical Center's web site.
In addition to easing navigation for visitors, using QR codes as a facility navigation tool enables more efficient updates. The incorporation of digital wayfinding makes it easier for the Medical Center to keep maps and other wayfinding information current. The health facility's QR code approach puts the visitor in charge.
Surprisingly, though, the QR code is neither digital on-screen nor printed on a poster. Rather, says Mark Kawiecki of ClearRiver Advertising and Marketing, MidMichigan's agency partner, "The QR sticker material is referred to as flexcon, which is actually an adhesive-backed vinyl material. The technical name is 'DPM FWS White Vinyl Hi-Perf Adhesive Sheet.' It is semi-gloss, and is often used in outdoor applications. However, we really liked it for the stickers because of its durability and because it had 'just the right amount' of adhesive (not under or overly sticky)."
"Including QR codes on our internal signs is another easy way to help people navigate in an inherently complex environment like this," says Mike Erickson, MidMichigan vice-president for facilities and construction. "Including QR codes on our internal signs is another easy way to help people navigate in an inherently complex environment like this. QR codes are used in more and more places, so the internal Medical Center signage is a great extension of this approach, and one where we can track our ROI with online metrics."