Gail Chiasson, North American Editor
Clorox, in collaboration with Titan Canada, used the large scale digital signage display at Toronto's mid-town Yonge & Dundas Square as part of a two-day special event promoting the new Clorox Smart Tube Technology spray bottle.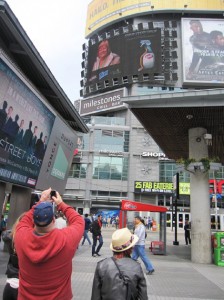 Goal of the event was to have consumers experience the new product for themselves, by engaging them with the opportunity to win prizes while also having their photograph displayed high atop the square on the Titan-owned 2,400 sq. ft., curved LED video screen powered by the Audience software platform (developed by Capital Networks Limited, Markham, Ontario).
The Audience platform also controlled the content for an additional 20 LED and LCD screens within the sector, which includes indoor shops and walkways. The digital network, in combination with a variety of floor graphics, wall banners, pillar wraps, escalator wraps and backlit posters, also controlled by Titan Canada, make the company the largest advertising supplier at Yonge & Dundas Square offering advertisers the opportunity for complete media domination of the square.
The courtyard at Yonge & Dundas Square hosts more than 1,000 events per year including concerts, promotional events, free movies and festivals, drawing over 1 million event specific patrons into the area.