Adrian J Cotterill, Editor-in-Chief
Here's another fine example of 3M Vikuiti being used to great effect to create large format screens but dare we open up again the can-of-worms that is 'the debate on what is good content'?
First of all, why do retail banks seem to continuously get it so wrong? There is a wealth of expertise out there whether it be from Lippincott (Oliver Wyman's branding and experience consulting business), John Ryan, the Platt Institute, Dagobert, MediaZest or free online resources (such as this blog AND others of course) that will give you typical guidelines on what works, what has worked and what simply doesn't work.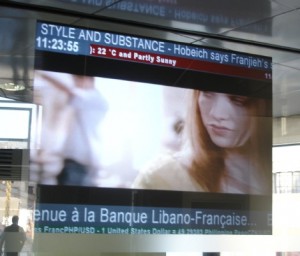 Good content starts with (a) a little thought, (b) some common sense (though the problem with 'common sense' as my father used to say is that it isn't very 'common') and in this day and age especially with all the web resources at people's disposal (c) just a few hours to do some basic research.
Eighteen months ago we asked why, just because folks (correctly) associate banks with money that the association is continued along the lines of 'money with stocks and shares' and then proceed to place stock tickers on their otherwise rather good digital signage installations?
This install in the Lebanon with the Banque Libano-Française shown here, even has a weather ticker taking up valuable screen real-estate in the window – Yes, I think we know it is hot / raining / partly cloudy (delete as applicable) cos' actually we are outside or just came in from outside!
To be fair the press release from 3M that went with this Banque Libano-Française deployment made mention of Corporate Social Responsibility (that's the first bank digital signage deployment we have seen that makes mention of CSR) and re-purposing some of the TV commercials but the content on this install still misses two other important elements…
Product Marketing (take some of the paper based literature / leaflets in the bank and animate them and make them come alive on screen)
Tactical Marketing (day parting, local promotions, last minute messages)
I guess what we are criticising here is what is on the screens rather than what is (maybe) missing…
Bank installs do not need stock tickers cos' the average consumer who uses a bank is not in the slightest bit interested in stocks and shares
Digital signage installations do NOT need a scrolling ticker anywhere, let alone in a window (an 'element' best left for TV if at all)
Last but not least, do we really need to know what the weather is like?
In terms of tempering our criticism somewhat let's end by giving some positives; it's great that a retail bank is deploying a number of large format screens in-window and inside and willing to talk about it (now come on Barclays perhaps you would like to tell the world what you are up to!) , 3M have (as always) been fantastic at shouting about how GREAT their Vikuiti film is (and it is) and finally it's nice to see news of installs a little further away geographically from what we are used to (this is the first we have covered in the Lebanon).
Credits

Infrastructure and Telecoms Division at Banque Libano-Française
Fattal-Tevega, 3M's authorised local distributor for projection business
Content design, creation, customisation, scheduling and management are controlled centrally by BLF's own communications division