Gail Chiasson, North American Editor
A new style all-in-one kiosk that combines two ways of sterilizing hands, an interactive screen with advertising opportunities, a coupon dispenser, a sponsor backlit and a place for flyers will be available for retail and others later this year, starting with an initial six-month exclusivity at Harris Teeter grocery stores on the U.S. East Coast.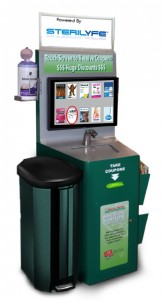 The SteriVision Hand Sanitizing/Advertising Kiosk, from Sarisota, Florida-based SteriLyfe, is a stand alone unit. People entering a grocery store, can use foam (or gel) for their hands, or can take a wipe for their hands and the handle of the grocery cart. A connected garbage can collects the used wipes. At the top of the unit is a backlit area which can have a sponsor's name. (Down the line, this could become a digital screen.)
In the centre are 10 large interactive small ad panels which can open to a full 25" touch screen of advertising, promotion of a special deal, or whatever the advertiser wants. One of these large buttons is reserved for the store's use, a second is for use by the backlit sponsor, and the other eight for national or regional advertisers. These can offer coupons for deals or discounts, with the coupon dispenser below. And on the far side is a rack for the store's flyers. The store is responsible only for the flyers and emptying the garbage can. SteriLyfe deploys, maintains, and services the units and handles advertising sales. It provides the units for free and the store owner shares in a percentage of advertising sales.
The kiosk developed from the seven-year-old SteriLyfe company's original production of a hand sanitizing product. About three years ago, it developed a new formula for hand sterilization, (Natrezza, made from natural ingredients), and the kiosk (now patented) is the result of a search to develop the best business model for a delivery system. Two units will be deployed to each of Harris Teeter's 200-plus stores.
"Harris Teeter was active in the introduction of wipes that are now found and used in many, if not most, large grocery stores and supermarkets, so its stores are getting the first crack at having these units," says Sean Quinn, president. "The six month exclusivity with Harris Teeter will give SteriLyfe a chance to assure that there are no bugs in the kiosk operation and to see if any changes or additions might be made for advertisers."
Quinn runs the company with Keith Haluska, CEO. The two are the founders and owners. Haluska, with a chemical engineering background, was a fireman paramedic and saw the need for sanitizing products. Quinn, after military service, worked in the corporate and technology sectors, including owning and selling a company called Datum.
"While we have plans to be in 5,000 locations in the next three years, we aren't limiting ourselves to grocery stores," says Quinn. "These units could be used in other verticals such as airports, transit of any type, stadiums and arenas, public buildings, pharmacies, doctors' offces."

Quinn says that he has four manufacturers able to produce the steel units, so, should the demand get heavy, production shouldn't be a problem.
Advertising, usually on a one-month contract, can be updated daily to accommodate store specials or new campaigns. SteriLyfe units can also integrate story loyalty programs.

"We do the parameters for the advertising as well as the changes," says Quinn. "Coupons can be either paper or emailed to a mobile phone. And we'll be able to easily provide measurement figures since we'll know how any advertising buttons are pushed, coupons dispensed, wipes and foam used. Further, from coupons dispensed on mobile, we'll be able to collect real data."
Quinn says that, at this time, 59% of shoppers grab hand wipes, and 80% of the users are women. The kiosks are also built to comply with American Disability Act standards.