Gail Chiasson, North American Editor
We noted that Planar Systems Inc., a major player in digital display technology, made two announcements at InfoComm 2013 this week: it is adding multi-touch, multi-user capabilities to its Planar UltraRes Series 4K LCD display product Line; and it unveiled a narrow bezel LCD Display for the fast-growing video wall market.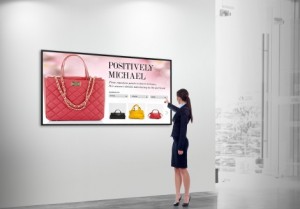 The addition of touch technology to the Planar UltraRes Series line of 4K displays combines a multi-touch experience with 4K image clarity and offers a best-in-class solution for professionals
who seek to collaborate or annotate using a large viewing area, the highest image resolution and enterprise-level features. It is also ideal for public display applications such as way-finding, product catalogs and any interactive digital signage designed to promote customer engagement.
Planar Systems already offers a comprehensive line of professional touch displays, ranging from15" diagonal desktop, point of sale and kiosk displays all the way up to 300" diagonal multi-touch video wall displays. The Planar UltraRes Touch extends this offering further by providing a large-size multi-touch solution with superb pixel density in Planar's ultra HD (3840×2160) resolution display line.
"Touch integration has been the number one customer request since we introduced the PlanarUltraRes Series of 84-" ultra HD displays," says Steve Seminario, senior director of product marketing for Planar Systems. "By utilizing Planar's exclusive ERO protective glass surface and proven multi-touch technology, we're happy to respond with a world-class implementationthat is Planar-built and Planar-supported."
Planar UltraRes Touch offers six simultaneous touch points, making it easy for multiple users to collaborate and interact at the same
time. It provides four times the resolution of a full HD display for amazing clarity. It supports both landscape and portrait orientations and 350-nit brightness, making it ideal for meeting rooms and control rooms for whiteboard, collaboration, video
conferencing and presentation applications.
Planar UltraRes Touch MX with 500-nit brightness is ideal for public venue and higher ambient light environments for branding, advertising and interactive digital signage applications.
And Planar UltraRes Touch 3D with 420-nit brightness, offers both
2D and 3D viewing. It's considered ideal for customers who work with 3D and 2D visual information for big data analysis, simulation and a range of uses in the design industry.
, the announced narrow bezel LCD video wall display, is aimed at the growing number of budget-conscious customers who want to create high-impact video walls.
The Planar PS5580 is a 55" ultra-slim, narrow bezel LCD display designed with advanced video wall capabilities, commercial-grade features and LED backlight technology, delivering a simplified video wall solution with a sleek profile and low power consumption. The LCD video wall displays can be tiled together to create a large, visually stunning video wall intended for a wide variety of digital signage applications including retail stores, hospitality, universities, sports bars, corporate lobbies, conference rooms and exhibits.
"The Planar PS5580 breaks down barriers to video wall adoption by providing a reliable, highperformance solution at an affordable price," says Seminario. "We have seen growing demand for a straight-forward and affordable video wall solution. The Planar PS5580 delivers that while providing extremely low power consumption and an ultra thin profile. Whether customers are using a single display or tiling 100 together to create a large video wall, the Planar PS5580 packs a lot of value into a simple package."
S5580 complements Planar's award-winning LCD video wall solutions, which together provide the most comprehensive line-up of LCD video wall displays in the industry."
Planar's UltraRes Touch is available now, while the Planar PS 5580 display will be available through Planar's global network of authorized resellers in Q3.