#dsj2013 transpired last week (June 12 – 14) with little fanfare, but there were sure signs of a show that has found its stride and is growing up. As usual it's a combo show with big brother Interop and few other smaller shows. The combined show three day total attendance was 131,984 down slightly from 132,866 last year.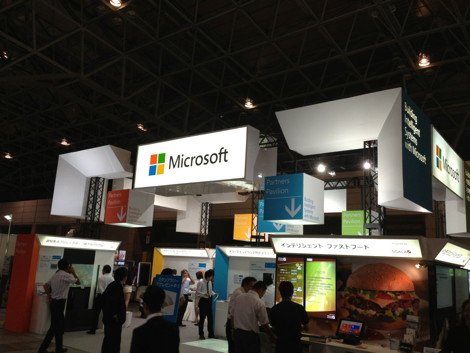 A number of attendees at #dsj2013, that we spoke to, felt that the show shrank a bit from last year. This impression was mostly due to some big players deciding not to exhibit this year. Sharp and Samsung were no where to be found and Scala, Intel and Hitachi were all tucked into the catch-all booth provided by Microsoft, notably making its first appearance at #dsj2013.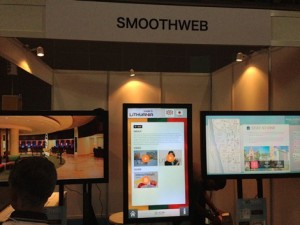 Scala had been providing the umbrella booth in the past, but decided to pass the honour on to Microsoft – no doubt as part of Scala's cost-saving initiative, Ed.
Predictably, the booth was packed due to the number of high profile participants. Microsoft looked happy to have a packed booth, and the signage community looked happy that Microsoft finally noticed them.
The other #dsj2013 booth with big traffic was PDC (who incidentally was also in the Microsoft booth – talk about covering your bets). They had lots to show including their new Afficher cloud platform, a new video wall used by retail giant Aeon, the popular Acure digital vending machine that profiles its customers and offers recommendations, and the big star of the show, a 2.6 mm pitch indoor LED product called Forest Vision (apparently named after their product manager, Mori-san – Mori means forest in Japanese).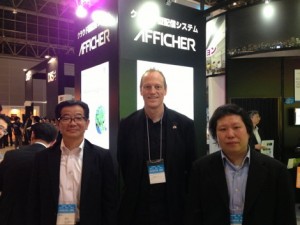 Also notable was that local signage pioneer Vanten was teamed up with PDC in their booth as part of a new partnership. Vanten has agreed to help PDC expand the Afficier market into Asia. Looks like PDC has it's sights on becoming a global player.
There were some new faces as well, with local serial entrepreneur Rajiv Trehan showing off SmoothWeb, his entry into the signage market centred around touch wayfinding signage.
There was also a bold presence by DISE who had a large booth in the centre of the show (they have been present a couple of years now) and they (FunFactory/DISE Japan) picked up the 'Best Booth Award'…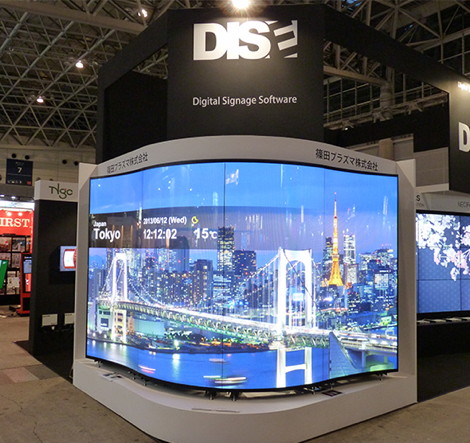 As for the show having shrunk from last year, Yasuaki Oshima of show organiser Nano Opt Media said there were actually slightly more DSJ exhibitors than last year, and as well this was also the first year that DSJ had most of the Hall to itself with Interop and IMC off in the next Hall.
So all in all, less 3D and signage games for urinals, but a well represented show that's seemingly moving past adolescence.