Eye announced yesterday the launch of easyJet's dynamic 12 month campaign at Gatwick Airport. The initiative, which has been delivered in partnership with Eye, OMD UK, Talon Outdoor and VCCP, targets the business traveller to drive awareness of the airline's domestic business routes.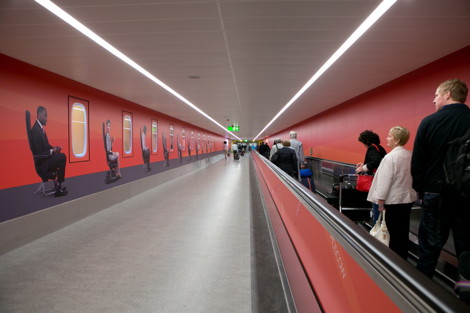 Collective wrapping of all three tunnels at Gatwick Airport has never been done before. The 100 metre-long wall-wraps are complimented by travelator wraps, together with a series of digital and static media formats across the Gatwick Gateway tunnels and at the North Terminal Business Lounge.
Sarah Parkes, Managing Director at Eye, told us "The combined tunnel wrap is a media first for Eye and highlights the innovative ways that our solutions can be leveraged. This is a fantastic opportunity for the UK's largest airline to promote its domestic business services at a highly desirable airport and indeed easyJet's largest base via a cross-section of complementary formats."
Andy Lewis, Head of Marketing at London Gatwick, said "Gatwick continues to grow as a business airport thanks to the large number of key domestic and international business destinations we serve, our direct links into London's financial districts, and our quick and efficient service at the airport. It is therefore exciting to see such an innovative marketing campaign in place at Gatwick from one of our major airlines."
There's a nice time-lapse video showing the Eye install of the campaign here.