Gail Chiasson, North American Editor
Montreal-based Newad, offering marketing solutions targeting the Young & Affluent, has announced the results of an accelerated growth of 30% in only 24 months, delivering more than 50 million impressions to the country's advertisers every week.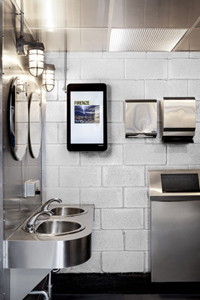 The company credits its exponential growth in digital advertising that now amounts to 3,650 digital boards available in its RestoBars, Nightclubs and Sports networks.
In Feb./11, Newad invested $8 million dollars in the purchase of a new generation of digital boards. In October of that year, the company added 1,000 screens in nightclubs as a result of a strong partnership. In Feb./12, Newad signed an exclusive deal with the fifty or so La Cage aux Sports restaurants, the leader in sports-type restaurants and bars in Quebec, including its digital network Cage TV (over 1,500 screens). Then, in Feb./13, Newad announced an exclusive representation agreement for all advertising formats (including 100 digital screens) to be used in Canadian locations of Canlan Ice Sports Corp., the largest owner of multifunctional recreational buildings in North America.

"At the dawn of its 19th birthday, Newad is re-establishing its leadership position in Canada by fully meeting the requirements of its ever-growing number of advertisers who benefit from the superior performance of its advertising network," says Michael Reha, president and CEO of Newad. "The success of Newad's 360 Solution results from a series of acquisitions and strategic agreements over the last few months which have allowed us to deliver creative and innovative campaigns. The expansion of Newad OnLine's advertising network, the array of our Websites targeting the Young & Affluent, our use of NFC technologies as well as our innovative initiatives in Experiential Marketing have contributed to these results and unparalleled growth, thanks to the mobilization and efforts of our teams."
Philippe Marchessault, executive vice-president, operations, development and innovation of Newad, says, "Newad Indoor will announce new initiatives that will allow it to distance itself even more from its close competitors in the digital advertising world over the next few months."
Newad is a member of the Out-of-Home Marketing Association of Canada and the Canadian Out-of-Home Measurement Bureau.