Gail Chiasson, North American Editor
It's not very often that one gets to interview someone so upbeat and who has absorbed so much knowledge after only one week on the job, but that's the case with Stephen Ghigliotty, new director of business development for Cineplex Digital Solutions in Canada.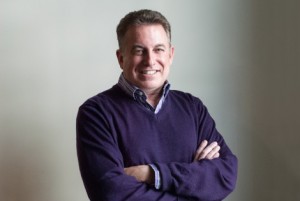 While the Solutions Group is officially based in Waterloo, Ontario, Ghigliotty will work out of the Cineplex Media Group office in Toronto to be closer to most of Canada's major advertising agency head offices.
Ghigliotty, who has studied art history, had just returned from the main Cineplex office when we interviewed him last Friday, and he was incredibly impressed with the stunning collection of art adorning the office walls.
"It's a gorgeous place for people to work," he says. "But what impressed me even more was the quality of the team and the professionalism. It's exciting to work with such people."
While the team members are mostly younger than he is, he says that he thinks they were surprised on their side to discover that he has quite a technical knowledge as well as that of creative, advertising and sales strategy.
"I think we'll work well together," says Ghigliotty, whose mandate includes both shoring up existing accounts and getting new clients. "I'm really impressed with the account team, as well as the media group. Cineplex really knows its screens. It's really exciting for me, and I'm thrilled with the acquisition of EK3.
"We have a major deployment for branding Scotiabank at Yorkdale Mall, with a beautiful wall of Christie MicroTiles, and we are also just competing a screen roll-out at more than 300 of the bank's branches. We are also working for other large clients such as The Beer Store, Rogers, and Oxford Properties with both malls and office buildings.
"I have a lot of experience with retail and with luxury brands, and it's in my nature to really be involved, not just with the agencies but also with the technical and digital startups, the whole picture. With sales, I'm interested particularly on the strategic side. Whether they like it or not, I'll have an opinion on everything! I always just want to do the right thing."
Cineplex Solutions works with various content management software companies, largely with Reflect and BroadSign, but also with several others.
Ghigliotty, who has considerable experience with agencies himself (Agency 59, Saatchi & Saatchi, and RSCG New York) says, "Agencies are watching their TV budgets crumble, as their audiences move to digital devices. The 21-year-old of today is watching via Netflix, is on an iPad, or watching YouTube.
"Now is the time when we can reach them with digital out-of-home, as well as at the movie theatres."
One of the current Cineplex Solutions projects is at Ontario's ONroute service centres along Highway 401, each offering several mainly fast-food outlets.
"Each ONroute centre has a three-zone network. We are doing Ontario tourism kiosks, plus four-panel screens, and also screens above the tables," Ghigliotty says. "On projects like this I want to be sure everything is right, including not only the soft content and advertising, but even the typography.
"There's no excuse for not having good creative on digital signage today. I think digital signage should be more entertaining, And why aren't companies doing more dayparting?"
Ghigliotty says that he sees Cineplex Solutions as trying to make everything as future-proof as possible, not just putting things up for today.
"We can now go out to clients and say, "See what we can do!" Cineplex Solutions is a very well run machine with a serious commitment to making things work. I have that same commitment and am exciting about the timing of my joining the company. I'm really invigorated by this job."