We note that Samsung has installed two giant digital screens (LED Mesh actually) on the London IMAX to showcase the capabilities of the Galaxy S4 in what is dubbed a 'first' for OOH visual and audio media.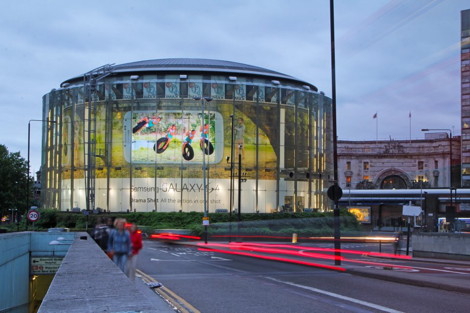 The LED Mesh (one of them shown above in the centre of the shot), each measuring just under 75 square metres, aim at bringing to life the phone's unique Drama Shot feature, which allows you to capture a sequence of still images of a moving subject in one dramatic shot.
The screens demonstrate this feature via two moving shots on each screen, one of a boy jumping in water and the second of a girl on a swing tyre.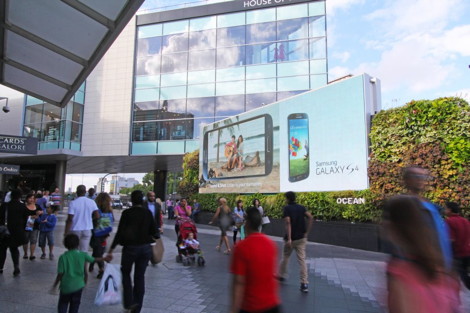 Samsung is also working with Ocean Outdoor elsewhere (shown above) to demonstrate the Sound and Shot feature of the Galaxy S4 (this enables you to capture background noise alongside a static image) – the speakers behind the digital billboard on Eat Street at Westfield White City have been activated and when an image of a guitarist appears on the screen, the music starts to play, providing passers-by with not just a visual, but also an audio experience.
JCDecaux and Clear Channel have also been involved, with 100 lenticular six sheets have been placed at high-footfall, key city-centre locations across London. We understand that Lenticulars have been chosen to demonstrate the quick shutter function of the Galaxy S4 camera – again using the still image of the boy jumping into water, with the boy appearing to move when the image is observed by passers-by.
Fiona FitzGibbon, Head of Out-of-Home at Cheil UK told us "This use of sound and image is truly forward-thinking in terms of development and innovation in out-of-home, pushing the boundaries of what can be done. We have hand-selected sites to ensure maximum exposure in the areas where Samsung's ABC1 audience live and work, reinforcing Samsung's commitment to innovation and taking customer experience to the next level".
This two-week campaign started Monday 29 July and will run until this coming Sunday, 13 August. It was planned and booked by Cheil UK in conjunction with Hive and Rapport.