Adrian J Cotterill, Editor-in-Chief
There's little else that technology hugger Kaveh Memari could do, we guess, other than issue an official statement following all their recent bad publicity.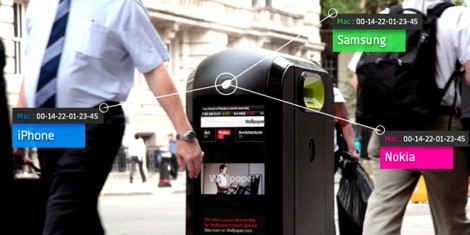 Here's what he posted over on their own web site…
Following the recent public attention to Renew's Orb technology, CEO, Kaveh Memari, publishes a message embracing the privacy debate and is prepared to answer any questions aired. Please utilise the below statement as official quotes for press/broadcast use.

Read the statement below.

Thank you for your comments and your reactions are entirely understandable. I'm afraid that in the interest of a good headline and story there has been an emphasis on style over substance that makes our technology trial slightly more interesting than it is.

To confirm, the initial trials of the Renew Orb technology have ceased. We are no longer conducting the tests and the specific sites installed with the Orb technology have no data capturing hardware currently operational. During early analysis, which is no longer being conducted, a limited number of pods had been testing and collecting annonymised and aggregated MAC addresses from the street and sending one report every three minutes concerning total footfall data from the sites.  A lot of what had been extrapolated is capabilities that could potentially be developed but none of which are workable right now. We no longer continue to count devices and are presently not able to distinguish uniques versus repeats. However, the process is very much like a website. You can tell how many hits you have had and evaluate repeat visitors, but we cannot tell anything personal about any of the visitors on the website.  So we were unable to tell, for example, whether we had seen devices or not as we never gathered any personal details.

Future developments will, however, not just depend on technology, but also, most importantly, on people being comfortable with interactive technology. This has always and continues to be Renew's key concern. We wish to provide a functioning domestic service for the City of London and its inhabitants. We do not wish to detract from the company's purpose, and always adhere to the ethical and lawful standards of the City. We would never contravene any data protection principles and are unable to obtain or disclose personal data. Simply think of the Phase I testing as a glorified counter on the street. At this stage, we were merely running a pilot with extremely limited, encrypted, anonymous/aggregated data. Come the time we discuss creating the future levels of protection, we can move to an improved service where we can bring better content to people. In doing so, we may find that the law has not yet fully developed and it is our firm intention to discuss any such progressions publicly first and especially collaborate with privacy groups such as EFF to make sure we lead the charge on this as we are with the implementation of the technology.  In the meantime, we appreciate your attention to this element of our company.

If this is an area that interests you, I am happy to keep you up to date with the latest as we develop and certainly welcome your thoughts and feedback.

Sincerely,

Kaveh Memari
CEO of Renew
I am afraid that the poor man still does not get the damage he has done to his own business AND indeed the industry. If he is still in a job in a month's time we would be surprised and if Renew are still in business (still have a contract with the City of London) by Christmas we would be doubly surprised.
Renew need to get with the programme and figure out that their contract is all about selling advertising on rubbish bin digital posters (as opposed to messing around with technology).