Gail Chiasson, North American Editor
This month, we welcome Ed Voltan, CEO, Canadian Health Media Network, Toronto.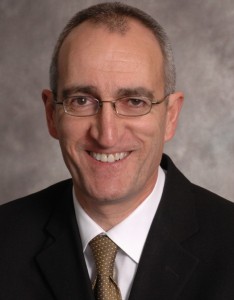 You've been active in developing and spearheading successful strategic planning initiatives for media startups, largely in the television sector, and also with The Elevator News Network. What have you brought from your experiences with these that you can or are applying to CHMN?

I was intimately involved in leadership marketing and sales roles with seven Canadian specialty channel startups including Discovery, Showcase and Comedy. Unfortunately, this experience did very little to help me in my role with the launch of ENN – The Elevator News Network, nor with CHMN.

My broadcast media experience and the Rolodex that came with it certainly helped me gain access to key agency personnel and their clients. However, I quickly realized that there was an enormous chasm between the notions of launching/selling Discovery vs launching/selling ENN and now CHMN.

With Discovery (or any other specialty channel startup), the process was all about estimating and staking out a defensible claim of 'share of audience', which then roughly translated into a negotiated 'share of budget' – the key here being that the TV budget/media plan (the 'pie') already existed and traditional media suppliers rarely, if ever, had any influence in creating or baking that budget 'pie'. The media suppliers' job was simply to negotiate a fair share or piece of that pie.

In the case of ENN and now CHMN, that media planning/budget 'pie' does not exist unless you learn to bake it from scratch – and, of course, in collaboration with agency planners and clients.

You head what is essentially a group of individual health networks from all 10 Canadian provinces. How did that come about?

PHSN (Professional Health Services Network) first launched in 1998. Following a change of ownership in 2006, we converted from 21" CRT's and DVD sneakerware to flat panel screens, smart boxes and Internet connectivity.

By 2007, we had a fully functional network in 350 high traffic medical waiting rooms focused primarily in Ontario, Alberta and BC. PHSN's monthly unduplicated reach at that time was roughly 1,500,000, which was pretty good – but not quite good enough to command ongoing attention and participation from our key targeted high affinity accounts. As well, frankly, by that time we were running low on investable resources. (Sound familiar?)

So, I took a page out of my CTV playbook. (At one time, CTV was a marketing cooperative between 16 families who independently owned affiliate TV stations across Canada.) I called several of my then medical Digital Out-of-Home competitors and proposed a similar cooperative.

Within one month, we had launched CHMN and within one year we had attracted 10 affiliates, giving us coverage in every province, all 12 major markets as well as 200+ rural markets.

How large is CHMN now?

Currently, CHMN's marketing cooperative offers 1,136 locations and delivers a monthly (and largely) unduplicated reach of 4,500,000. This represents roughly 95% of the available potential audience delivered by medical DOOH in Canada.

Does the fact that the health sector is under the jurisdiction of each separate provincial government play a role in what CHMN can do? Please explain.

This fact does not offer challenges with regards to OTC (over the counter) brands.

With pharma brands, we follow and support PAAB (Pharmaceutical Advertising Advisory Board) Guidelines, both in letter and in spirit.

This fact, however, does offer opportunities for CHMN to provide provincial health marketing initiatives with enough critical mass (in those provinces underserved by any single affiliate) to consider CHMN as a viable media option.

You are personally very involved with many charitable organizations such as the National Advertising Benevolent Society, the Paul Mulvihill Heart Foundation, and Changing Perceptions. Have you always been involved in charitable organizations? What has drawn you to these?

Thanks for the kind observation, but in fact, many of my colleagues make me look like a slacker in this department. Let's just say that I'm honoured to serve when asked and …"there but for the grace God/Allah/Zeus/Para-Brahman, go I."

Does the amount of advertising versus other content vary on screens for each individual network?

There are two main sources of advertising revenue and this affects the overall advertising versus content question.

National advertising, generated for the affiliates almost entirely by CHMN, is very consistent in volume across all affiliates. On the other hand, local advertising can vary by affiliate.

Generally speaking, the advertising to content ratio is roughly the same as it is on conventional television (i.e. 25/75).

That said, the answer to this question will change dramatically over the next little while as we migrate more and more towards custom-created, contextually relevant (and sponsored) content.

And is there more than one network per province?

All provinces have more than one CHMN affiliate, although it should be noted that some operators are particularly dominant in certain provinces.

Are pharmaceutical companies major advertisers? I know that in print advertising in Canada, anything related to drugs must carry an extra full page of details such as composition, side effects and much more. Are you governed in any way by something like that? How do you deal with it?

Pharmaceutical companies continue to be major supporters and we (collectively) ensure that we follow all PAAB guidelines, both in letter and in spirit.

CHMN offers media buyers a one source-one invoice-one billing for whatever networks they want. How do you promote that and how is that working?

For clarity, individual networks are never identified in the campaign planning and/or buying process so RFP's are handled strictly as a one-network entity.

This process is simply carried through to the back-office functions as well, so that the entire experience is seamless from the planner/buyer/accounting point of view.

It is working (almost) flawlessly.

Is all the content on the networks health related?

Currently, 80%-90% of content is health related, with the remainder being 'general interest'. The reverse ratio was true 10 years ago, and the change is due to feedback that we have received from 'viewers' who have participated in six waves of proprietary research conducted by Global Target Marketing over that period.

How is the health information vetted? Do you have doctors on staff?

To start, all affiliates have health professionals on their advisory boards. As well, each medical office serviced by a CHMN affiliate has complete veto/vetting power over 100% of the content displaying in their facility.

What does CHMN's membership in CODACAN offer?

CHMN was a founding member of CODACAN. However, that membership was (respectfully) not renewed for 2013.

CHMN's primary objective in being a CODACAN member was to promote credible Common Metrics. Unfortunately, and in spite of considerable effort over several years by a number of dedicated members, we were unsuccessful in promoting Common Metrics beyond the final concept stage.

The Common Metrics Formula was designed by CHMN and it is a 'tweaking' of the formula first created by ENN in 2000. Unfortunately, an Open Letter outlining the recommended DOOH Audience Metrics Guidelines sent to Canadian media executives from CODACAN received far more support from agencies and their advertisers than it did from network operators.

Is there much growth potential for CHMN and/or its individual networks? Where, or why not?

Across Canada, there are approximately 4,500 medical office waiting rooms that have sufficient traffic flow (3,000+ monthly) to support a DOOH deployment that is entirely reliant on advertising revenues. So, yes, there is room to grow as long as the ad community continues to see value.

Are all the health networks in CHMN profitable? Are any looking for investments for future growth?

"Yes" and "Yes" … and on this second note, Private Equity and/or VC investors/pirates can call me directly and I will facilitate introductions.

You are in over 1,000 waiting rooms reaching more than 4.5 million patients and those accompanying them, monthly. Do any of the networks involved use anything like interactivity, sound, facial recognition, eye tracking or other additions to their basic screens?

Ok, so there's a lot going on in that one question. Let's break it down: Facial recognition, eye tracking: This is being considered by some affiliates, although my own personal view is that privacy paranoia, especially within a medical facility, will make this idea a non-starter with the medical facilities.

Sound (or audio vs non-audio) – Roughly 50% of CHMN's locations are audio enabled; however, we are encouraging all advertisers to consider effectively created non-audio content. The rationale for this has been debated thoroughly on various industry blogs so I will not belabor the point(s) here

Interactivity – CHMN is spearheading several mobile-related interactions (pulls) on upcoming campaigns and we will have some actionable data by early 2014.

It should be stressed that the efficacy of these campaigns are not being determined on a classic Direct Response basis. Rather, the clients that are working with CHMN are apportioning value to the notion that CHMN can create awareness and interest, thereby contributing either directly or indirectly to the attribution process.

What research measurement do you use?

Most of our qualitative research to date has been conducted by Global Target Marketing. This consists of exit intercept surveys lasting up to a maximum of six minutes per intercept.

Audience data is provided by site management which we then filter through 'credibility formulas' i.e. known number of attending physicians analyzed against hours of operation vetted against the data provided, etc..

That noted, we are accumulating a 'war chest' that will allow us to apply collectively for Canadian Outdoor Measurement Bureau (COMB) membership and accreditation

Do all of CHMN networks use the same software management systems? If so, whose? Did any have to switch to become part of CHMN?

It pains me to acknowledge that currently, all but one affiliate operates and owns their own custom designed and developed (and proprietary) software management system.

We all agree that this needs to be rectified and we are currently working on the development of a common platform.

How long is a basic loop on your screens, and how is everything controlled, through a central CHMN service or handled individually?

Content loop lengths can vary between 30 minutes and two hours. Ad loops lengths are 30 minutes (give or take) and are meant to coincide with the average dwell time.

Each affiliate individually manages its own scheduling and content loop. However, when it comes to national ad business generated by CHMN, CHMN acts as a central clearing house and/or traffic control center. National ad content goes directly and solely to CHMN, and CHMN distributes the content to the affiliates with detailed instructions as to the sites/locations included in that specific campaign.

Are there any plans for expansion? How, when and where? Are you, or could you be linked to any other North American health network or are the rules in Canada too specific for that to happen?

Each affiliate has its own Canadian expansion plan and some are more aggressive than others. As noted earlier, there are roughly 3,000 additional high traffic medical waiting rooms that could support an ad network. Currently there is no media value tied to the notion of a North American network. Sounds great, and some people have chosen to promote that sort of spin, but media plans simply do not work that way.

Can you identify any key challenges affecting past or future success of CHMN and/or its affiliates and/or Medical digital out-of-home generally?

There are two key challenges, the first being a lack of common metrics and the second being the credibility of some of the characters in the medical DOOH playing field.

Regarding common metrics, it is simply unbelievable to me that as an industry, we have not been able to resolve this issue. It makes us look like rookies in the eyes of clients and their ad agencies.

The fact that some of the larger Canadian outdoor players who are migrating from static to digital while continuing to use existing traffic flow numbers (albeit verified by COMB or others) without acknowledging the need to factor in dwell time and loop length – is unprofessional and hurts our cause generally. They know who they are.

As well, don't get me going on the fact that we have not collectively agreed to a naming convention for our industry. Perhaps we need a permanent divorce between A) media operators who see themselves as being in the media game and B) the other tribe consisting of suppliers and those operators running subscription based networks (smart!).

As for the (A) team, the media folks, I will happily embrace the notion of Digital Place-based even though I championed the move in Canada to DOOH. Anything to settle on a single identifier/brand. This from Page 1, Rule 1, in Marketing 101.

As for the (B) team, yes, I buy into the notion of Digital Signage. It's yours, keep it and (collegially) please stay out of my agencies.

Regarding the credibility of medical DOOH network operators – thankfully, many of the 'Cowboys' (as oft referred to by Canadian Media Directors) have moved onto other endeavors, but the damage has been substantial.

On the medical facilities side, some of Canada's largest facilities as well as some of the largest hospitals have fallen prey to outrageous spin-doctoring with regards to system capabilities as well as to shared revenue opportunities.

Similar misrepresentation is commonplace at the agency and client level. All this from wannabe operators who have no understanding of, and even less respect for, the media business generally.