Gail Chiasson, North American Editor
We wondered what had been keeping our friend Jason Gross, vice-president of strategy and marketing at VeriFone Media, so busy lately, and now we know.
VeriFone Systems has launched Way2ride, an app that allows you to check into a taxi to pay for your trip by simply tapping the screen at any time during the ride, eliminating the need for cash, a card swipe or even your wallet. And when the ride is over, you can just get out.
But it's much more than that. This app lets you set your preferred tip and how you want your receipt delivered – printed, emailed, or just stored in the app and online so you can submit your expenses with the click of a button.

"This represents a new step in the evolution of digital out-of- home media," says Gross. "Once you've checked into the cab, VeriFone's TaxiTV platform knows who you are. And depending on what you've done interactively with the taxi screen in the past – eg. read the business news from CNBC – it may target more business-related ads to you that you might be interested in." (VeriFone promises that they adhere to a strict privacy policy on not sharing personally identifiable information).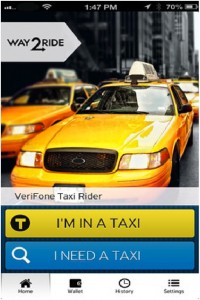 Oh, yes, and if you see an ad on the TaxiTV screen for, say, Iron Man 3, tapping an on-screen banner could pop up nearby show times and ticket options on your phone, with your credit card info already loaded for an easy purchase, even if you are getting out at the theatre at the next corner.
"Basically, we are now talking directly to the consumer," says Gross. "We know once you've gotten into a cab (you've pressed "I'm in a taxi" to check in for payment) and we take it from there. The backend of all this is pretty complicated, but it's easy for the consumer. This is groundbreaking in terms of adding value to the user experience."
This system has initially launched in all VeriFone cabs in New York City (over 7,000 of the city's 13,000 yellow taxis), but VeriFone is working with the other payments providers (Creative Mobile Technologies LLC) to add the rest of the yellow taxis, plus the new 'green taxis' coming out for Brooklyn and the other boroughs. And VeriFone tells us that it plans to roll out to the more than 70,000 taxis it powers worldwide.
Oh, you say that the app can't hail your cab for you? VeriFone is planning to add the option to send a pickup request to every taxi in New York City with a single tap. We know that VeriFone is talking to such companies as Uber Technologies Inc. and Hailo Network USA Inc., which have begun providing e-hail service in the yellow cab industry in New York, to enable their apps to automatically pay for e-hailed rides in VeriFone taxis."
Way2ride is available for iOS and Android smartphones.
"Way2ride makes every taxi ride better, whether you hail by hand or with an app," says Amos Tamam, VeriFone's senior vice president of taxi systems. "An app that provides this convenience in every taxi in New York City, including the new for-hire vehicles in upper Manhattan and the boroughs, will be a real benefit to passengers and drivers alike."