Adrian J Cotterill, Editor-in-Chief
We know times are tough at Wireless Ronin but are they that bad that they have to try and raise USD 25,000 by selling off their not-so-old exhibition booth?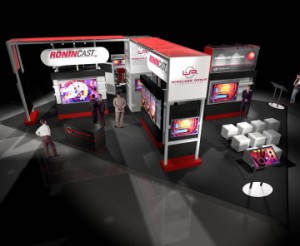 We note up on Used Booths – a completely free classified ads web space for (you guessed it) 'used booths' item #2239 which states…
Category: Island
Size: 20′ x 30′, Larger
Location: Los Vegas, NV

This beautiful booth can be reconfigured to fit your tradeshow needs. Whether using the booth as a large 40×50 or a modest 20×30, you don't lose any of the "wow" factor most desired when exhibiting at a show.

The booth was built in 2008, has only been used (4) times, purchased for $150,000 and is in good condition.
As Ronin have said that they will take booth space at #dse2014 we wonder what they will do for a booth, and if it will be any cheaper than the USD 25,000 that this sale would realise.